Although it may not be the most conservative approach to investing in dividend stocks, some investors, perhaps younger ones, might consider diversifying their holdings into emerging markets like Brazil.
One interesting stock I'm taking a look at is Companhia de Bebidas Das Americas, also known as Ambev (
ABV
). It's one of the main holdings of the WisdomTree Emerging Market Income Fund (
DEM
) that I wrote about a few weeks ago.
Ambev is one of the world's leading beverage companies, producing and distributing beer and soft drinks in Latin America and other regions. It trades in Brazil, but also on the NYSE as an ADR under the symbol ABV.
The company's growth rate is excellent and has a decent current yield. But it also gives you a chance to capture additional gains from a rising currency.
Consider that
Bloomberg reports
Brazilians are seeing real bargains in U.S. assets because the Brazilian real has gained 45% on the U.S. dollar since 2008. Here's a chart of the Brazilian real since 2000: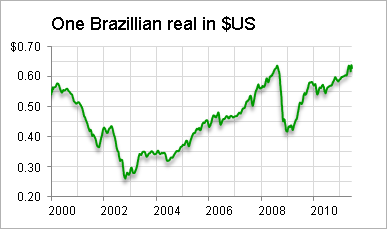 If this is a trend that will continue, why not get the extra tailwind that comes from investing in assets valued in currencies that are gaining on the U.S. dollar?
There are some charts below that shows how Ambev has performed over recent years, and how the weaker U.S. dollar/stronger Brazilian real could impact that performance. But first, let's take a look at the company itself.
Significant Earnings Growth in the World's Third Largest Beer Market
This chart from a recent Ambev investor presentation (which I annotated to make easier to read) shows that the company's EBITDA has grown more than seven-fold over the past decade: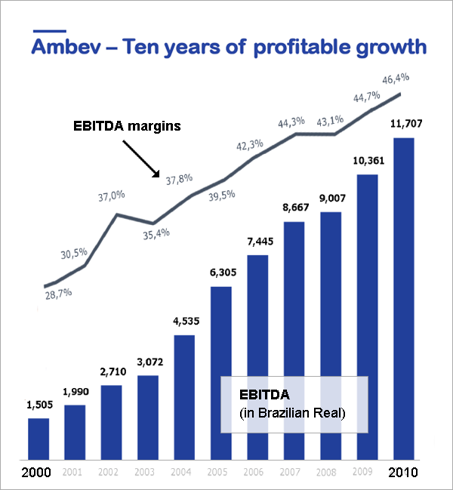 I was also surprised to find out that Brazil now represents the world's third largest market for beer.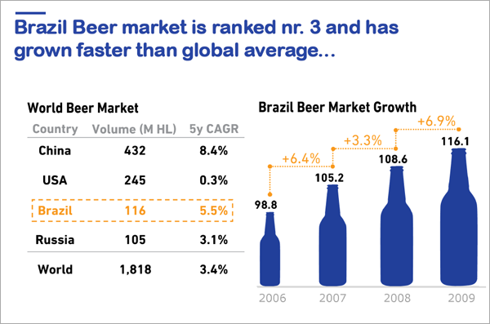 And as for Brazil itself, there's a growing middle class. According to Ambev, 32 million more Brazilians have joined that income group over the last decade. To put that into perspective, that's the equivalent of around 10% of the U.S. population.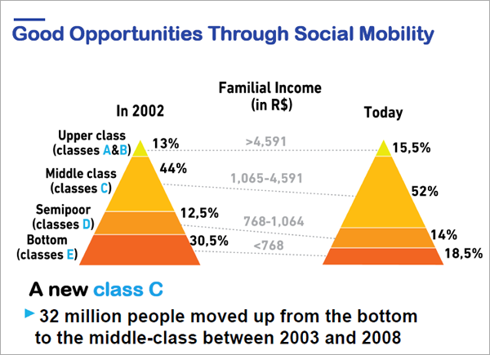 Set Your Dividend Expectations a Bit Differently
Companies in emerging markets often approach dividends a bit differently than U.S. companies do – and that's one downside to investing in stocks like these.
For one thing, dividends are often distributed in a "lumpy" fashion, perhaps one, two, or three smaller payments throughout the year, with one larger payment per year. In Ambev's case, some of the payments are designated as "dividends," while others are "interest on capital."
Another issue is that dividends are declared when there are profits. There's not necessarily an implied expectation that the payments will be steady. If the company grows, so will the dividend, but there does not seem to be a pressure to continue a steady payout if the company's profit falls.
In a sense, this is the true purpose of a dividend – reward shareholders for profits. But compare that to a company like Coca-Cola (
KO
). Coke currently pays 47 cents per quarter. Even if the company's profit fluctuates, the company will try and continue to raise the payment, or at the very least, not lower it if at all possible.
With that in mind, here's a chart showing the annual dividends paid by AMBEV since 2006. The top chart shows the payment in Brazilian real, while the bottom chart shows the equivalent in U.S. dollars when the payments were made.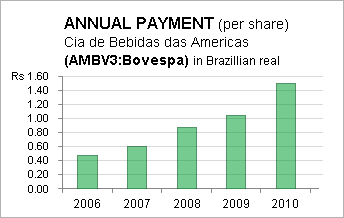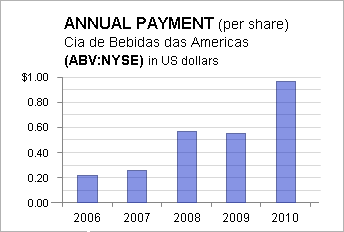 You can see that in U.S. dollar terms, the dividend has been going up more rapidly although it was actually lower in 2009. The charts are based on payments for owning the shares that trade in Brazil, not the ADR on the NYSE, although the ADR's payments appear to track fairly closely.
Right now Yahoo Finance reports that ABV's current forward yield is around 4.6%.
The Tailwind of a Falling Dollar, Rising Real
This chart shows how two portfolios would have performed since 2006 based on a 10,000 Brazilian real investment in Brazil (symbol AMBV3 on the Bovespa).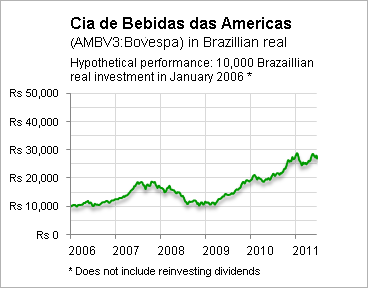 This chart shows that same investment if you made the same investment, but as a $10,000 investment in U.S. dollar terms.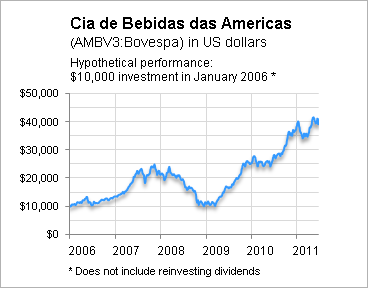 You can see that in U.S. dollar terms, the stock's performance is substantially higher. That's because of the impact of the weakening U.S. dollar. It's also similar to the performance you would have gotten by investing in the ABV shares on the NYSE as you can see here.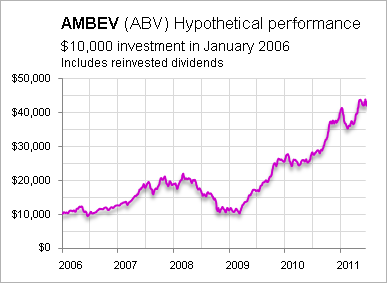 I think ABV is worth a look just on its growth prospects alone, but if you think the U.S. dollar is headed for further long-term weakness, it might be good to consider diversifying some of your holdings so your
real
income (semi-pun intended I guess) doesn't weaken too much along with it.
Disclosure: I have no positions in any stocks mentioned, and no plans to initiate any positions within the next 72 hours.