China Resources Beer (Holdings) Co. agreed to buy out the remaining stake in its Chinese venture with SABMiller Plc for $1.6 billion, smoothing the way for a takeover of its partner by Anheuser-Busch InBev NV. The Chinese brewer's shares jumped.
The deal values the Snow Breweries venture, maker of the world's best-selling beer, at 11 times 2014 net income before taxes, or about half the median 21 times earnings before interest and taxes valuation for brewery deals announced over the past 12 months, according to data compiled by Bloomberg. The transaction was approved by the board and is subject to regulatory approval, China Resources said in a statement Wednesday.
Sale of the stake may help AB InBev secure Chinese antitrust approval for its acquisition of SABMiller. For China Resources, it will mean tackling the local market without an overseas partner, as beer consumption in the country is expected to grow with younger consumers increasingly migrating to high-end, foreign-brand brews.
"It will be tougher for China Resources Beer now as they have to develop their premium segment organically," Mizuho Securities Asia Ltd. analyst Jeremy Yeo said via telephone. "Their priority now will be to accelerate consolidation within beer space in China; any other large asset that comes up, they will be ready to get it."
Yeo had expected China Resources to pay $3.3 billion for the 49 percent stake it didn't own, while analysts at Nomura Holdings Inc. and Sanford C. Bernstein previously estimated the stake's value at about $5 billion.
China Resources Beer shares rose as much as 35 percent to HK$17.20, the biggest intraday jump in almost a year. The Hong Kong-listed brewer last year hived off businesses including supermarkets and food to parent China Resources Holdings Co. in order to focus on beer. The state-owned conglomerate's units range from drugmakers to real estate, and it has sought deals globally including a failed bid for Fairchild Semiconductor International Inc.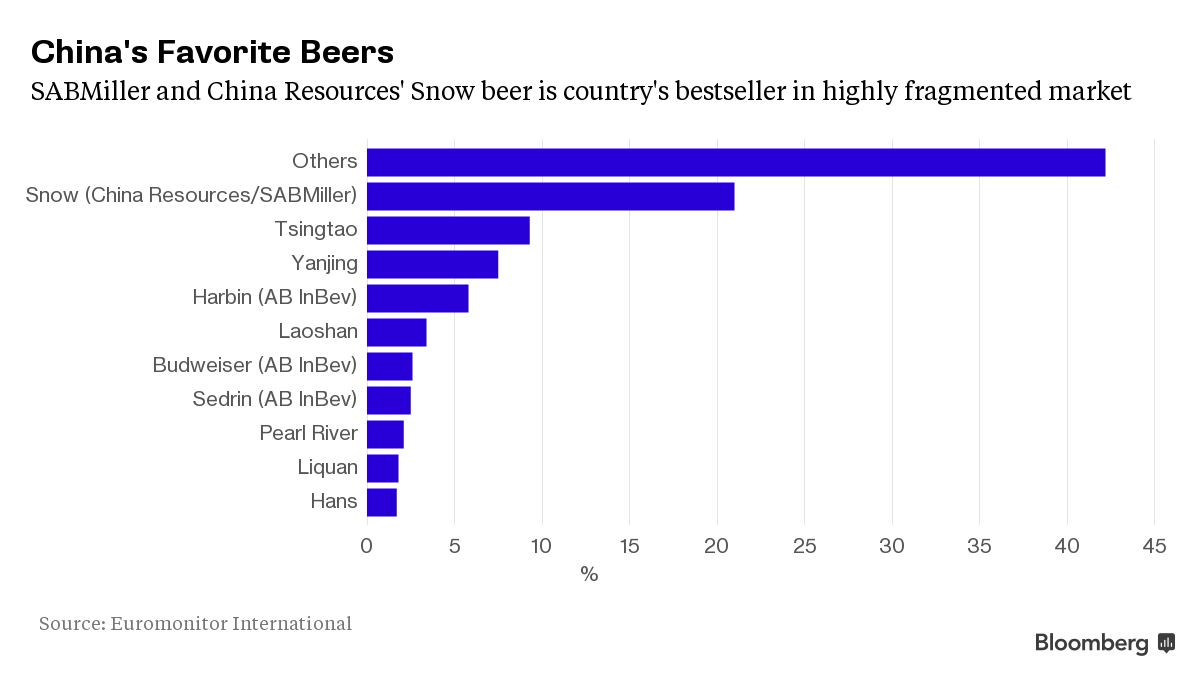 The Snow deal is conditional on the successful acquisition of SABMiller by AB InBev and is expected to close in conjunction with that merger, the Belgian beermaker said in a statement Wednesday. AB InBev said Feb. 25 it was making progress with Chinese regulators on gaining approval for it to buy London-based SABMiller, in the beer industry's biggest-ever deal.
Beer sales in China, the world's largest beer market by volume, are expected to rise 41 percent in the five years through 2019 to reach 683 billion yuan ($104 billion), according to a June report from research firm Euromonitor.
Snow is the world's best-selling beer by volume, Euromonitor's data shows. The partnership between SABMiller and China Resources, which began with two breweries in 1994, operates more than 90 operations across China, according to SABMiller's website.
Nomura and UBS Group AG advised China Resources on the deal, along with Rothschild & Co., Citigroup Inc. and HSBC Holdings Plc. Advisers to AB Inbev on the Snow sale are Lazard and Merrill Lynch International, with Sullivan & Cromwell, Freshfields Bruckhaus Deringer LLP and Fangda acting as legal counsel.