China's top brewer could start acquiring smaller competitors to cement its leading position in the Chinese beer market, after buying out venture partner SABMiller Plc and taking full ownership of the world's best-selling Snow beer.
China Resources Beer (Holdings) Co. on Wednesday agreed to buy SABMiller's stake in Snow Breweries for $1.6 billion, smoothing the way for a takeover of its partner by Anheuser-Busch InBev NV. The Hong Kong-listed unit of China Resources Holding Co. currently owns 51 percent of the venture.
"Once the SABMiller deal is completed, they may start to buy some small breweries again," said Bloomberg Intelligence analyst Duncan Fox. Potential targets include Beijing Yanjing Brewery Co., China's fourth-biggest brewer by volume, although deals would be subject to balance sheet constraints, he said.
Yanjing, backed by the Beijing municipal government, plans to sell about a 20 percent stake to a foreign strategic partner, people with knowledge of the matter had said last February. The brewer of Yanjing Beer denied those plans.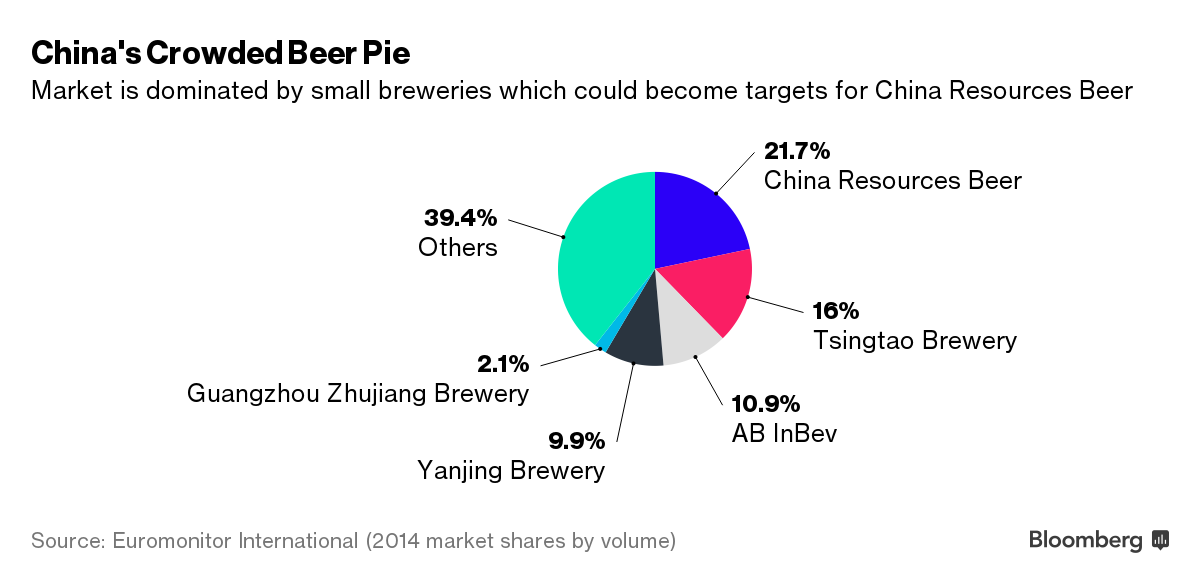 Small regional breweries with shares of around 2 percent or less make up the bulk of China's expanding beer consumption, while state-linked beermakers including China Resources and Tsingtao Brewery Co. lead nationally, according to data from Euromonitor International.
Shares of Chinese brewers rose, with Shenzhen-listed Yanjing gaining as much as 1.5 percent to 6.93 yuan, its highest intraday level in a week. China Resources Beer and Tsingtao advanced as much as 4 percent and 3.7 percent respectively in Hong Kong trading. The benchmark Hang Seng Index fell 0.9 percent.
China Resources plans to buy up regional brewers as it sees "great opportunities" to enhance its presence in this way, the beer unit's Chief Financial Officer Frank Lai said in August, comparing the strategy to how the company strengthened its position in southern China by buying Kingway Brewery Holdings Ltd.'s assets in 2013.
Low-End Beers
Large beermakers such as China Resources may need to merge to gain market share in order to survive, said Haitong International Securities Co. analyst Nicolas Wang. They also need to improve their products to meet Chinese customers' rising demands for better quality, as the local market is already crowded with low-end beer, said Hong Kong-based Wang.
While Asia has been awash with low-priced beer for decades, rising incomes mean younger connoisseurs are willing to spend more. For example, AB InBev said in a 2015 report that profitability is as much as nine times greater for premium beer in China compared with mainstream lines.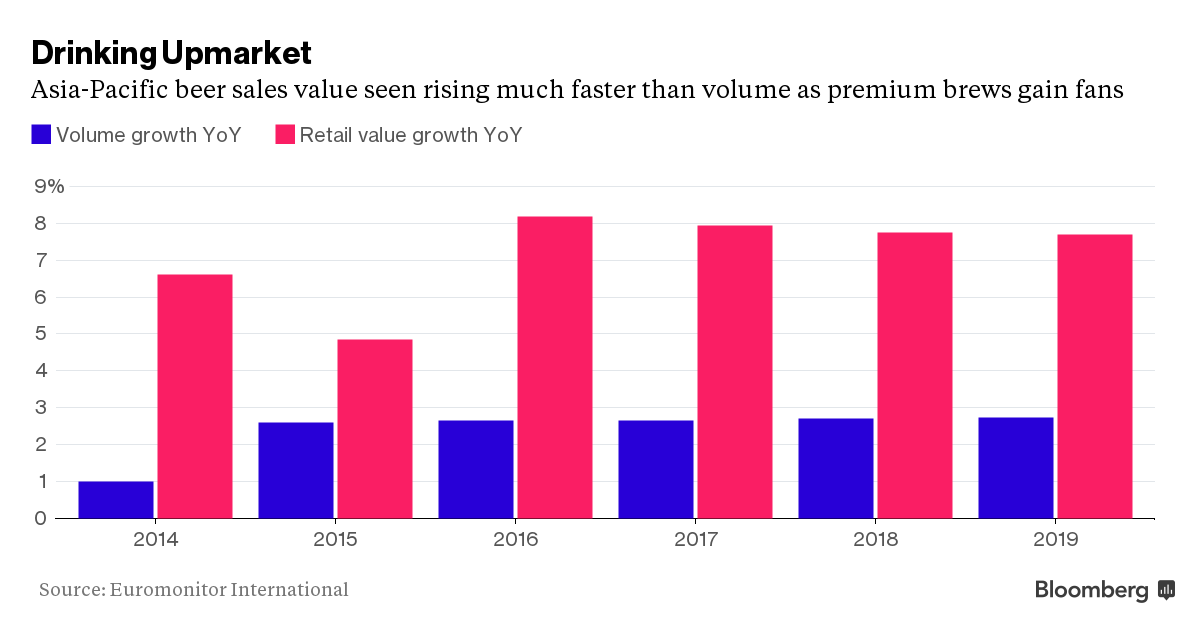 Snow, which had a 23 percent share of China's market last year, outsells all other beers globally by volume after overtaking Bud Light in 2008. The brewery produces enough liquid to fill about 12 Olympic-sized swimming pools every day, according to SABMiller's website.
That's mainly a function of the country's huge population, as China Resources sells hardly any beer overseas. The brewer has been trying to lift the image of its products in China by raising prices and pushing out higher-grade brews, said BNP Paribas SA analyst Charlie Chen.
"They will continue to do so because their average selling price is still lower than Tsingtao," Chen said. The owner of Snow Beer has been able to achieve about 5 to 10 percent increases in average selling prices per year by shifting focus to smaller bottle sizes and cans, as well as introducing premium products, he said. The company is selling beers for as low as 3 yuan (0.5 cents) per bottle and as much as 25 yuan for their so-called super premium brews.
Better Margins
China Resources said in an interim report last year it's aiming to drive sales and profitability by growing higher-priced brands with better margins. These mid- to high-end products, which are priced at above 5 yuan per 500 milliliters, accounted for 41 percent of the company's sales volume in 2014, up from 29 percent in 2012.
The Chinese company's aspiration of capturing the higher end of the drinks market could be hampered as AB InBev becomes a competitor, instead of its partner. AB InBev's Budweiser, considered a premium brand in China, has a 2.6 percent share of the market, according to Euromonitor.
China Resources may "need to tie-up with another brewer to get some premium brands moving through, or maybe they have learned enough of SABMiller about the art of brewing that they create another brand," Bloomberg Intelligence's Fox said.