There are now 2751 breweries operating in the United States — more than at any other time in American history, according data released Wednesday by the Beer Institute, an industry research group.
In many other industries, it wouldn't be unusual to set a record of this sort. There are probably more companies that make video games, ice cream and air conditioners than ever before, too.
But the rapid growth in the number of breweries open within U.S. borders has been the most striking proof of the country's craft beer revolution for at least two decades. Breweries have been sprouting like kudzu across the country, attracting plenty of media attention.
Yet every plaudit about the growth of craft beer up until now has called for an asterisk. There were more craft breweries open than at any time — since Prohibition.
That's because at the turn of the 20th century, there were thousands of breweries operating in the U.S., but the 1919 passage of the Eighteenth Amendment sent that number plummeting to near zero. There was a healthy bump in the total after Prohibition, only to be followed by a gradual winnowing of contenders thanks to the efforts of a few gigantic beer corporations to yoke the entire beer market into a few brands: Bud, Coors, Miller et al.
By the industry's post-Prohibition nadir in 1979, there were just 44 breweries operating in the United States, according to Beer Institute data. Growth was subdued but significant in the '80s, as the pioneers of craft beer, such as Sierra Nevada in California, started to inspire imitators. By 1993, there were nearly 500 breweries making beer in America, the most since World War II. The explosion has continued since then, with an average of about 115 breweries opening every year since 1990 — eventually reaching the all-time record set in 2012. Here's a chart from the Beer Institute illustrating that growth: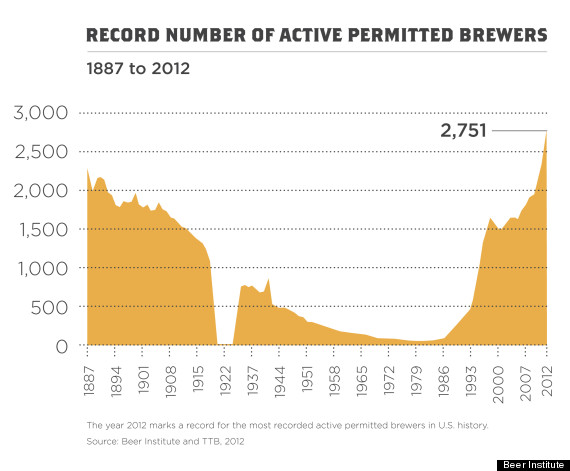 Most of the 2300 breweries that have opened in the past two decades still produce a tiny fraction of amount the beer that their corporate rivals brew. And because sales of major brands have long been on the decline, the American beer market actually shrank consistently in dollar value for years — though it's grown a bit so far in 2012.
The recent history of the American beer industry, in other words, is one of increasing competition and diversity, but not increasing size — which, to judge by the beer selection in almost any respectable grocery or liquor store in the country, is terrific for drinkers of American beer.