Kazakhstan beer market is still growing by volume and value. The consumers' demands are gradually becoming more complex, there is the market polarization by price and taste segments as license, canned, strong and mild beer popularity is growing. Eye catching new products have a big impact on companies' positions in the situation of limited advertising. Following sizable investments into Carlsberg Kazakhstan and considerable increase in the company market share, there has been a balance settled between the leaders in retail sales and the share of Perviy pivzavod has grown.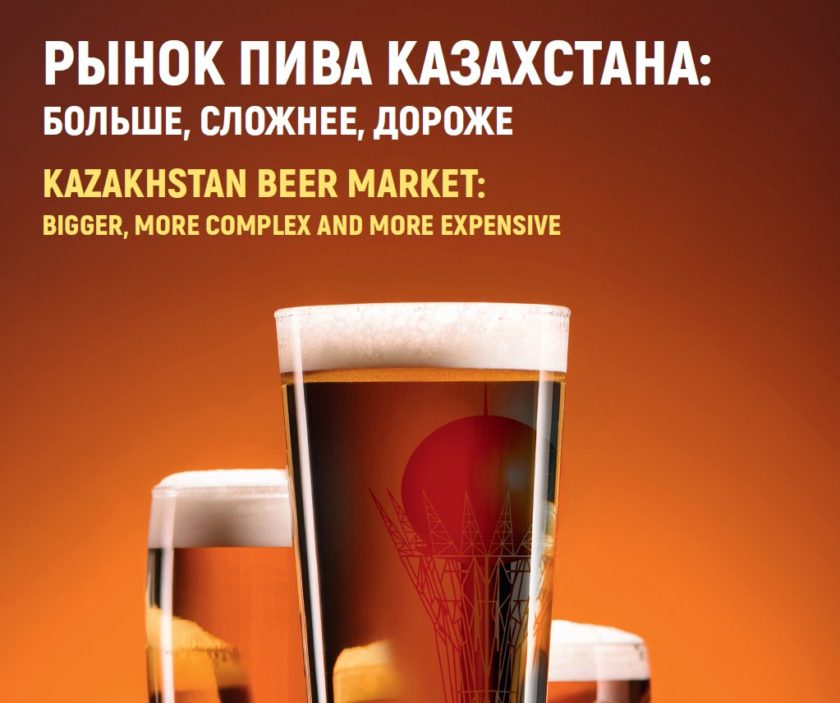 The general market situation
The beer production in Kazakhstan continues surprising everyone with the development rates. In 2020 the output increased by 4.4% (to 69.3 mln dal), which looks better than in other countries. Also the strongly positive dynamics instead of stagnation or decline over the five years looks a fine performance beyond dispute.
If we smooth the fluctuations in beer output volumes due to various time factors, we can speak of a steadily positive trend. For example, compound average growth rate (CARG) from 2014 to 2020 amounts to 5.9% and even higher, 7.6% from 2018 to 2020. And we can only imagine, what growth rates we could have seen if not for the coronavirus.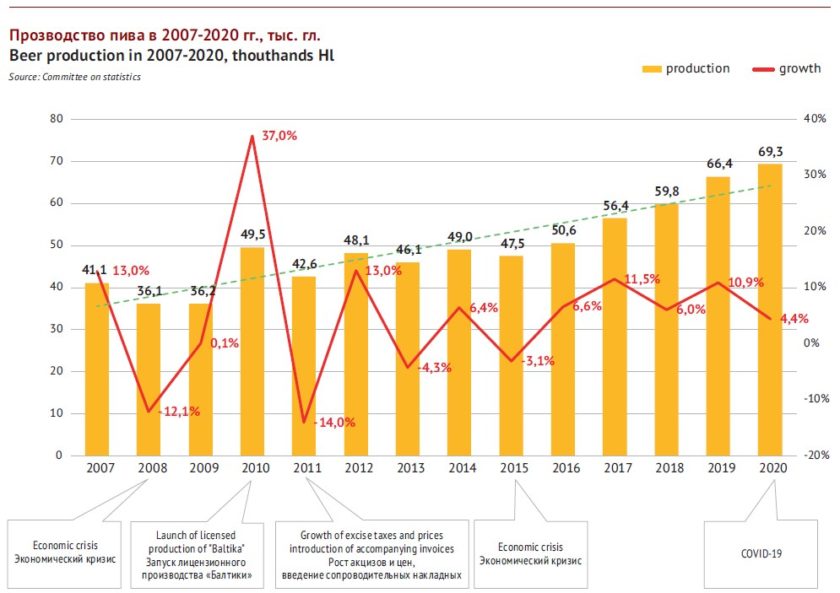 Though by the moment of the article preparation, we only had data for the first 4 month of 2021, but even that period confirmed the positive trend. Mostly due to steadier New year dynamics as well as due to low base effect in April 2020. At that time, owing to uncertainty connected to coronavirus restrictions as well as unpredictable consumer's behavior, breweries cut down their output.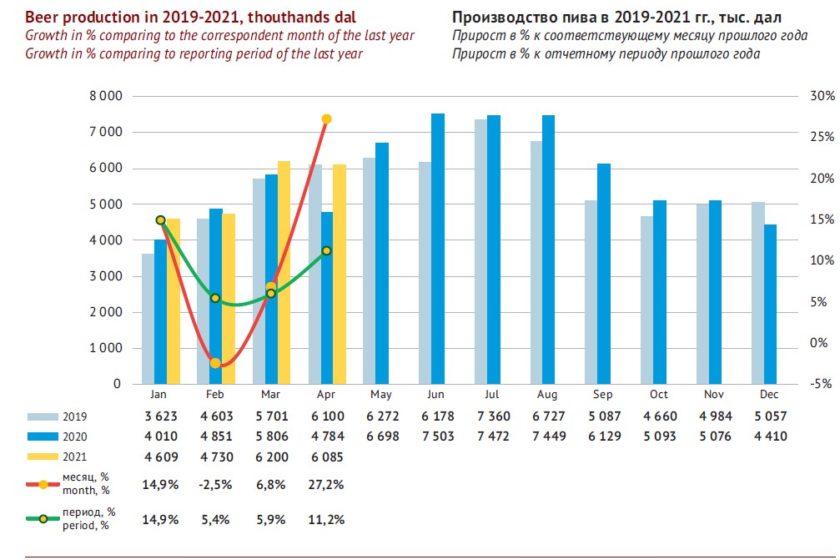 In 2020 Kazakhstan's brewing industry showed a good performance compared to other postsoviet countries or China. The growth of beer production is partially explained by the fact that the market is still not saturated, considering the level of beer consumption and the GNP per capita. However, by those two parameters Kazakhstan has left China behind.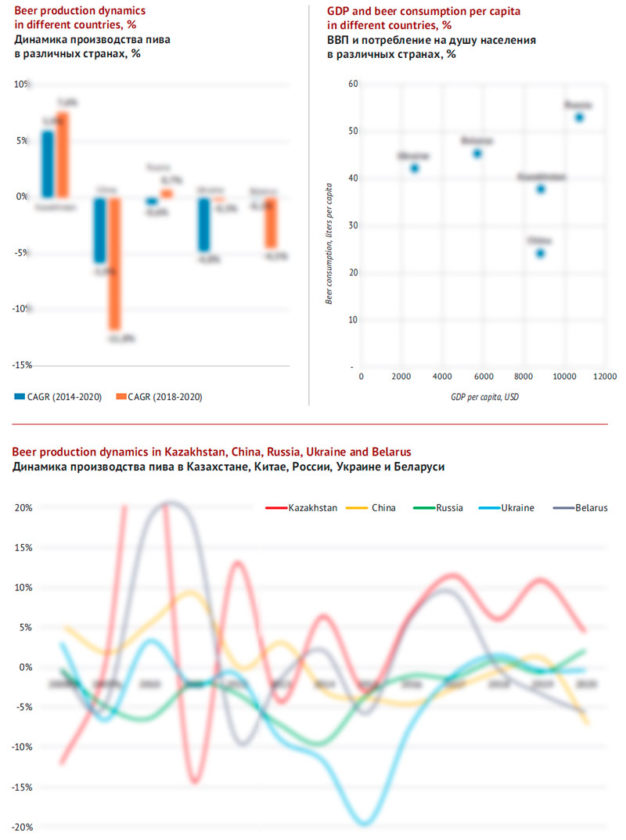 The culture and consumption style in Kazakhstan is closer to East European countries than to China with its street fast food and predominance of industrial workers among consumers. And if we compare Kazakhstan to Russia, Ukraine and Belarus one on the contrary can speak of a big potential for growth as having a higher GNP per capita Kazakhstan is behind them by the volume of consumed beer.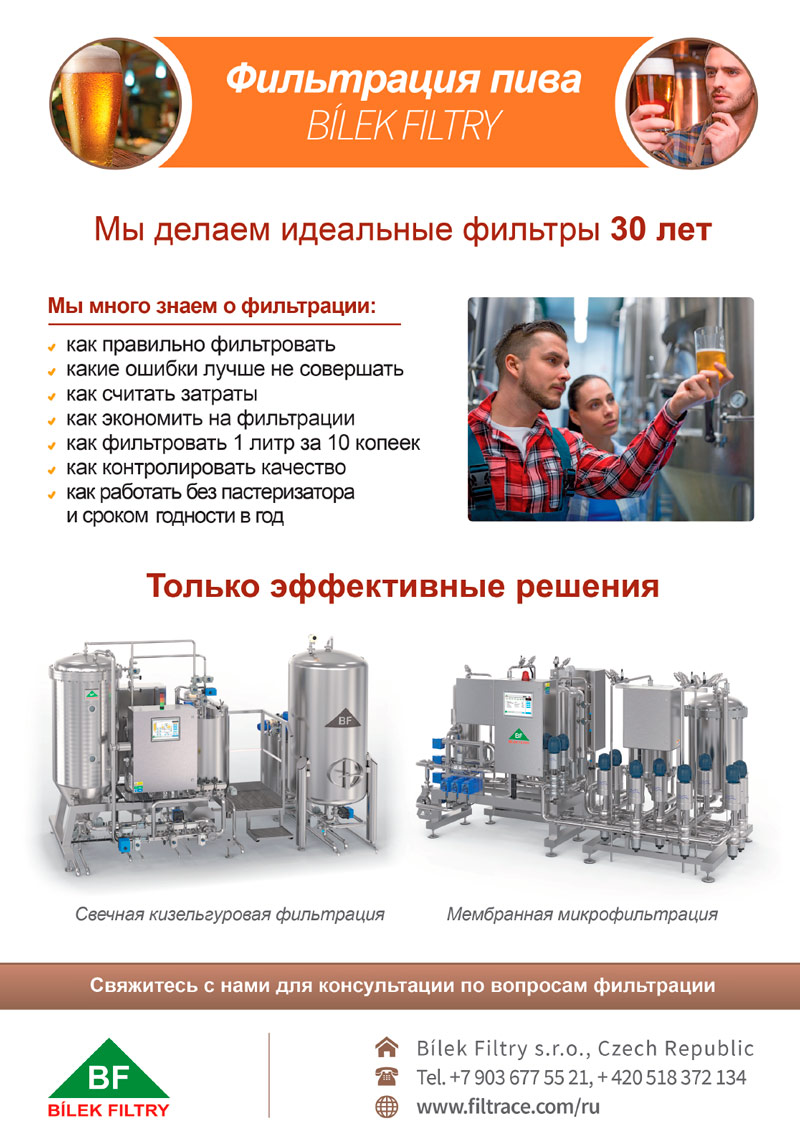 As we analyze Kazakhstan beer market, we should keep in mind vast difference of beer sales allocation by regions. According to our estimation, Almaty accounts for a … of national retail beer sales (together with the Almaty oblast that makes nearly a …). Over the recent years, the significance of the biggest city in the country has been growing. At that the significance of Nur-Sultan has been on the contrary decreasing and today the capital accounts for only …% of the consumption.
2020 was remarkable for a fast growth in several southern cities – … and … in the first place. At the same time, the retail sales decreased in the opposite part of the country, in … and … in the first place. These changes impacted the positions of regional companies that mostly focus on domestic markets.
Rapid growth of the beer market means not only the volume growth but also transit from the elementary to complex in many marketing aspects.
Old major brands have only recently started yielding their positions which are still much higher than in the countries of Eastern Europe. This is connected to consolidation of comparatively small market in the hands of two big international companies, namely Carlsberg Kazakhstan and Efes Kazakhstan (among other reasons due to a range of global M&A). The consolidation resulted from leaders' drive to fill all niches and channels of sales which was arisen from their experience on other markets. Carlsberg Kazakhstan company has been particularly active in the market of draft beer as it has been developing its presence in specialized beer shops.
However, the current development of the beer market is taking place under the pressure of competitive struggle and activity of smaller scale players. Besides there is a rather rapid polarization by price strength and taste. Thus, the share of expensive beer is growing at the account of license and import sorts.
In the financial year results one can also trace the strong positive dynamics. This was caused by almost linear growth following a period of relative stability on seller's and retail price in the first half of 2018.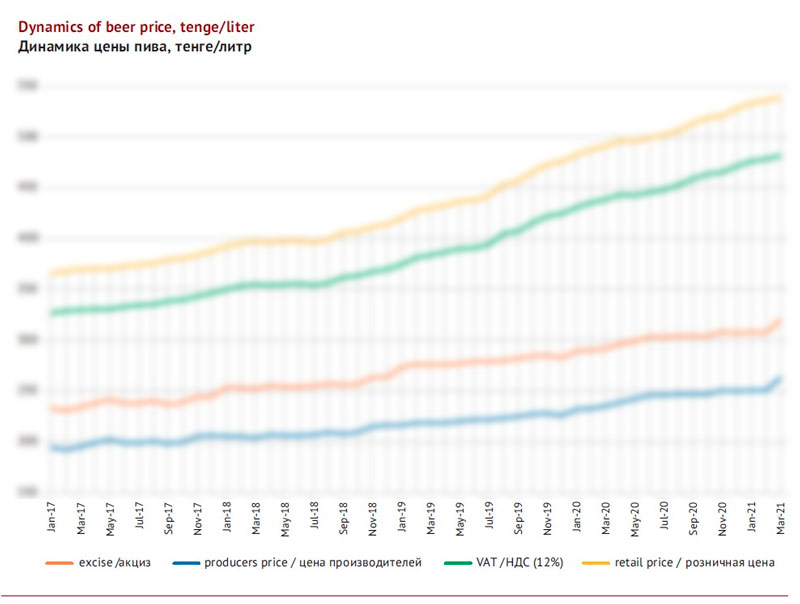 The retail price growth in 2019-2020 was outrunning the official inflation. Thus according to National Bank the index of consumer prices in March 2021 amounted to 7% annually and the retail price of beer over this period grew by …%.
The inflation growth, as well as the beer price increase is to some extent connected to tenge rate volatility in the first half of 2020 in particular from February to April the national currency devaluated by nearly 15% to USA dollar. The major reasons for this has been considered outer factors such as oil prices, Russian ruble rate, sanctions against Russia and others.
For Kazakhstan brewers the devaluation is always quite sensitive as nearly a quarter of the total malt volume, all hop and a major part of other raw materials are imported. Thus, in 2019, … tons of malt to the value of $… mln as well as hop products to the value of $… mln were imported into Kazakhstan.
However, the retail prices were growing faster and more significantly than seller's prices. As we can see in the graph, the prices were mostly driven by the retail. For the most part it is a shop … that took advantage of consumers' agitation and started raising prices uncontrollably for many goods including beer. Only in March 2021 according to the official data producer's price spiked having increased to … tenge which was followed by stabilization.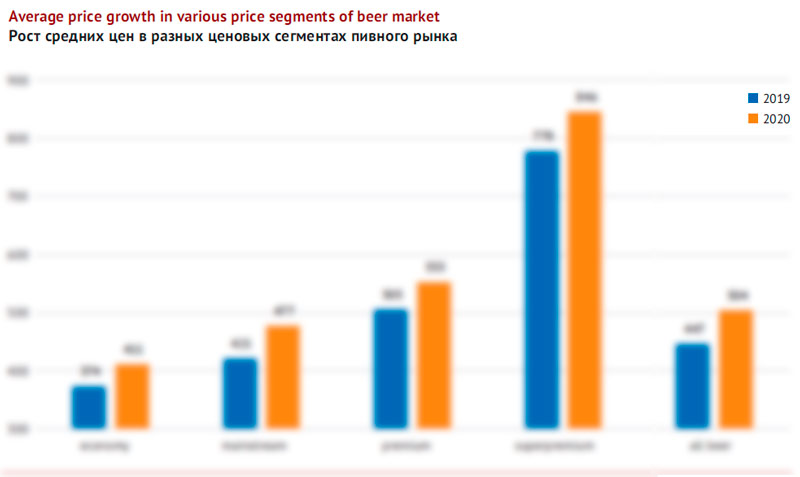 To some extent the retail price growth was linked to the market premiumization.
The price growth in different segments was uneven as we consider the end of the year results. Yet the biggest growth in beer prices took place in the major mainstream segment (+…%), which neutrally effects the price mix. In the smaller economy and premium segments that surround mainstream the beer price grew nearly equally, by …%. However, the influence on the beer market and on the average prices was mostly exerted by the superpremiun segment, which has grown unusually over the recent years.
Indirect taxes (excises and VAT) have made no contribution into beer price increase, however, brewers speak of bigger tax burden on the account of other deductions such as for usage of subsurface.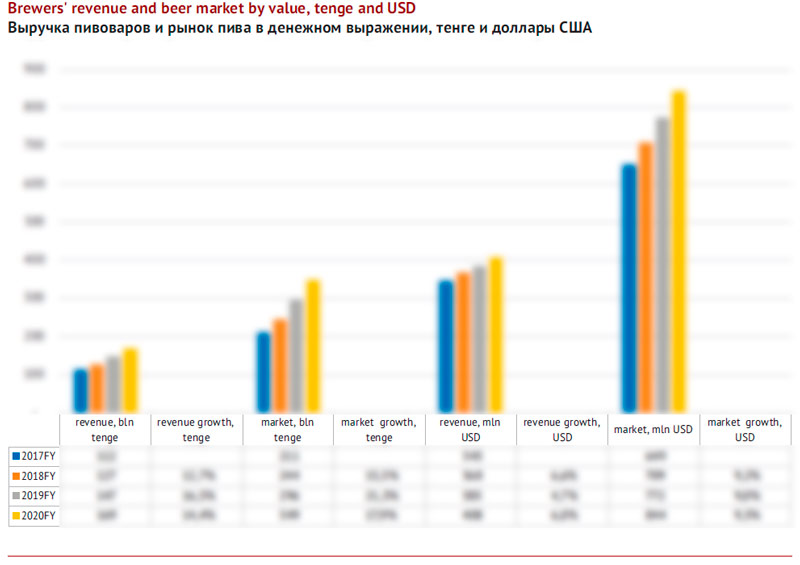 Naturally, the price growth was followed by a rapid growth of beer market by value taking into consideration the strongly positive dynamics of natural volumes. In 2020 it slowed down a bit and grew by …% to … bn tenge. In dollars the beer market can currently be estimated at $… mln with a …% growth (by the way such dynamics has been observed for 3 years running).
However, our estimations of the market size are conventional as thee is no account for the price difference in retail and HoReCa, as well as unofficial volumes of foreign shipments. From Russia Kazakhstan imports packed and draft beer belonging to different segments of the local market and Russia along with other countries gets inexpensive draft beer from Kazakhstan.
Steadily at high rate averaging …%, estimated brewers' revenue proceeds rising in 2019-2020 (based on official statistics of selling cost and the beer output volume). In 2020, it reached … bn tenge net of VAT and excise (+…%). In dollar equivalent brewers' revenue have grown by …%, to $… mln.
Beer market segmentation
Segmentation by price
Most of developing Asian markets including China have excessive economy segment of the market as cheap major brands account for its biggest part. Demands to mass beer taste are quite low as well as to density and alcohol content in it. In this aspect the market of Kazakhstan is not much similar to the market of South-East neighbors.
The Kazakhstan retail beer market is characterized by a high share of mainstream segment. On the contrary, to say Russia or Ukraine where the mainstream has devaluated and the term "mainstream" itself is not always equivalent to the term mass due to intense polarization of the market. About ten years ago, mid-priced superbrands dominated but eventually the boarders of mainstream became blurred and the sales were actively redistributed in favor of both expensive and cheapened brands.
In Kazakhstan we can so far talk of a rather distinct price positioning of brands in the beer market which is still has been there for quite a long period of time. Some brands lose their popularity but are substituted by others in the same segment. There is a migration to adjoined segments but it is not too active.
No doubt, the steadiness of the price structure of the beer market of Kazakhstan as well as its stable brands positioning are not only due to efforts of marketing specialists at brewing companies but also due to strong consolidation of the retail market which to is mainly divided between two players. Yet the situation is starting to change today.
At the Russian and Ukrainian beer markets the price sales structure has been altered by a host of independent regional breweries along with Oasis group activity. In Kazakhstan the leaders today are starting to feel competitive pressure on their brands.
The share of the vast mainstream segment in the Kazakh market has been decreasing for a number of years. In mid 2019 it fell dramatically within two months having lost … p.p. That share has almost completely been taken by the premium beer. The period of relative stability lasted for nearly a year, yet in mid 2020 there started mainstream reduction, which has now become lengthy and more gradual.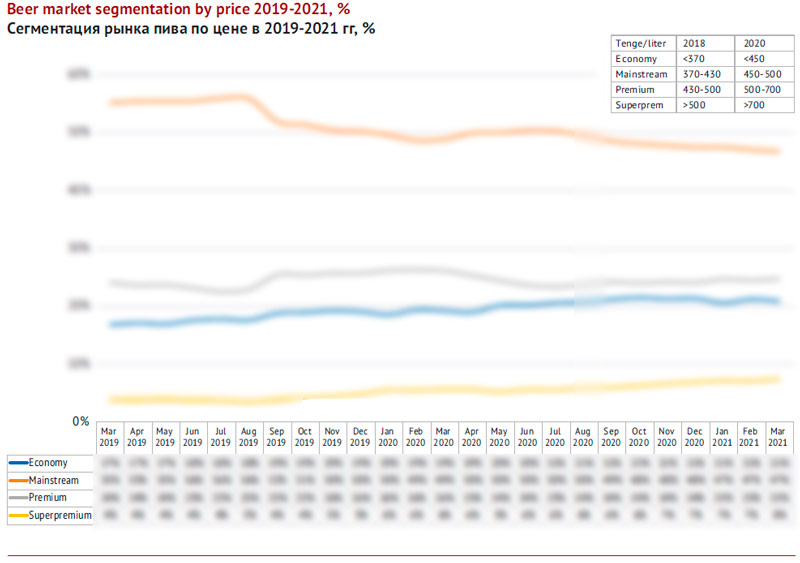 The mainstream segment is almost completely formed by ten major brands. Their price ranging …-… tenge for a liter (average price in 2020 being … tenge for a liter). Efes Kazakhstan is apparently playing the key role here (…retail prices in the segment), so, the negative dynamics is mostly connected to this company's brands. In particular, there has been lingering decline of brands …and …, and in 2020 … also lost some of its market share.
At the same time, Carlsberg Kazakhstan on the contrary has reinforced its positions by replacement as its brand … was being rather rapidly washed out of the local market instead here has been further growth of …with its share doubling over the past 5 years. The shares of old national brands, beer … and …have been rather stable. Also, Perviy pivzavod has somewhat solidified its positions by brands …and …. Due to the activity of those companies, the mainstream has kept relative stability.
The economy market segment has been gradually growing, though it is still not very big. We define the brands with a price lower than … for a liter in 2020 (and less than … tenge in 2019) to be economy. The average price for economy beer in 2020 amounted to … for a liter in 2020.
Starting from the second half of 2020, one can speak of the segment stabilization. Yet, there are considerable fluctuations of certain brand shares behind the seeming evenness of the changes in affordable beer share. The economy segment has had a real upgrade done over the recent several years.
In particular, the shares of several major and rather mature brands such as … by CBH as well as brands …and … by Efes Kazakhstan have continued decreasing. However, it is the affordable new brands that by Efes Kazakhstan (hipsterish strong Khmelnoi Los and light beer Bremen with German positioning) that have become the drivers for the economy segment and having more than compensated for certain failures.
Competitors have also made a considerable contribution. In 2020 Carlsberg Kazakhstan manages to overcome the negative trend for …brand. Perviy pivzavod was equally active thus beer with … positioning … has continued gaining weight and the new product of 2020, soft beer … has recently won popularity.
The mainstream is experiencing perfuse from above from the premium beer market segment. This is where we place beer costing …-… tenge for a liter (the average price in 2020 was … tenge for a liter). The share of premium has been changing by stages with periods of long stability and correction in 2018 and 2020. Yet, on the long-term trend it has been growing and if we compare the annual volumes, we will see that in 2020 the premium share growth equaled nearly … p.p.

The premium segment specificity is that as recently as only several years ago, …accounted for a half of sales and the fluctuations of the past years concerned that brand's positions. However, in 2020, only …of sales were accounted for by … and other marginal brands are gaining ever bigger significance. Yet, … has impacted the positive end-of-the year performance having recovered what had been lost in 2019. The majority of other brands by the company have also demonstrated good performance. Among "oldies" …, … and …have increased their market weight and only … has lost some. All the recently launched brands have continued growing especially in the categories adjoining beer, such as novelty of 2019, …due to the low-base effect, as well as ….
Company Efes Kazakhstan saw a range of its international premium brands continue decreasing their market share (…,… and …) which has substantially slowed down the growth of the whole segment.
However, we should give attention to positive dynamics of Bud beer which in all markets of AB InBev presence is getting considerable support. On the one hand, one has been able to come across … in Kazakh market not for the first year, as there are all more or less remarkable Russian brands. On the other hand, the share of … started growing rapidly at the end of 2019 having increased by …p.p. to …% of the market by March 2021.
The superpremium segment has demonstrated an very intensive growth. If we compare extreme points (August 2019 and March 2021) its share has increased from …% to …% of the beer market. We consider brands costing more than … tenge for a liter in 2020 (the average price being … tenge for a liter) to be superpremium segment. In the light of weak share growth in the premium segment it was the superpremium that reflected new preferences among consumers who become ever more demanding.
Both national brands and import beer from Russian and far abroad countries have made their contribution in the development of the superpremium segment.
The import beer so far is leading among the superpremium brands. Its share in the Kazakh retail market has increased from …% in March 2019 to …% in March 2021. Yet the import is very fragmented and consists of at least 200 brands by economy Russian and superpremium European brands. Except for … we have spoken about previously, only several other import brands also belonging to AB InBev reach …% of the national retail market (…and …).
The most prominent contribution into the superpremium segment has been made by several international brands that are bottled in Kazakhstan. In 2020 there was a growth to …% of the share of … by Efes Kazakhstan that had been present in the market for a long time, yet balancing at the …% level. Besides a very good growth has demonstrated by … by Carlsberg Kazakhstan that had been actively increasing its share and in 2020 reached almost …% of the market. … brand has been gradually expanding its market share while it is produced and distributed by Perviy pivzavod in Kazakhstan.
The market segmentation by channels and package
The beer market in Kazakhstan differs considerably from other post-soviet countries considering both the proportion of draft and packed beer and the segmentation of the packed beer.
The share of packed beer in the Kazakh market is unusually big compared to the Eastern Europe. Starting from 2008, the draft beer sales growth changed into decline and growth again, the major outlet channel, DIOT was formed and the composition of major players was widened including those from Russia.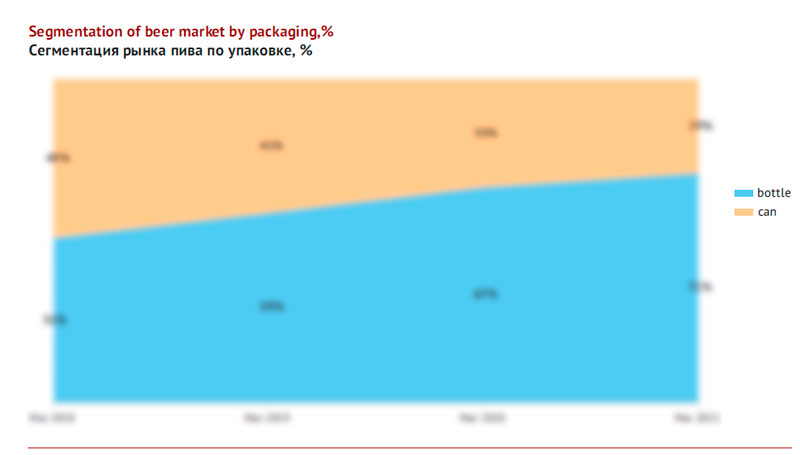 In our previous review of the Kazakh beer market we have calculated that there are at least … outlets. The estimated volume of beer sales can be placed at …-… mln dal per year. The role of DIOT networks is the most important in … (the major networks being Volna, Pinta and Pivnoy Ryad) and … (Pinta, Pat & Beer and Beer Litr).
Until recently company Carlsberg Kazakhstan had been actively increasing their positions in the draft beer market, yet in 2019 their share was somewhat corrected having amounted to nearly a … of sales. The second position and a … part of output was owned by Efes Kazakhstan while the … one (nearly …%) belonged to company Arasan.
In 2019 the draft beer market share grew by … p.p. to …%. Under our estimation only …% of draft beer sales took place in HoReCa, while the bulk was sold at beer stores. However, in 2020 the weight of the outlet channels changed considerably.
That is the comment Victor Semak, Carlsberg Kazakhstan president gave in November 2020 to Forbes concerning the quarantine impact:
"Due to quarantine restrictions that either are getting stricter or weaker beer sales in HoReCa (bars, cafes and restaurants) have been decreasing considerably for half a year starting from March 2020. Besides the growth rates have gone down in the modern retail channel (major trade networks, supermarkets) which had been dynamically developing the sales rates prior to 2020. This was caused by restrictions on travelling during the quarantine, supermarkets closure for weekends during the strict quarantine as well as transformation of consumer behavior. Consumers moved to the channel traditional retail (stores near home) which easier accessible during the quarantine and viewed as a safer option due to less people inside. We also can observe general decline of purchasing power of the population as according to research agency Nielsen's consumer palls, …% of the Kazakh started cooking and eating at home, …% switched for cheaper products/brands and …% started buying nothing but the essential goods".
For comparison, in Russia and Ukraine supermarkets have long ago started dominating the outlet channels of beer, and the lockdown has only stimulated consumers inflow to the modern trade. There, wishing to optimize their purchases they more often opt for light package such as PET and cans. The glass bottle sales have declined both due to this material bigger weight, fragility and the fact that impulse purchases have become less actual for Russians and Ukrainians.
Kazakhstan's regional characteristics is that corner shops play a much bigger role for beer sales
(…% by March 2021) than supermarkets. Besides, light package does not have any options but a can as PET for alcohol is completely forbidden.
So the mighty and lengthy trend of substituting glass bottle by cannot be attributed to only networks development and this trend had no parallels in other countries. While in March 2018 glass bottle and can were equal, by march 2021 only …% of sales was accounted by glass bottle. Some slowing in the can growth early in 2021 can be rather linked to balance between package types than slower network growth.
Glass bottle still keeps a smaller but important share in some regions and cities. For example, in …, … and … its share reaches …%. Yet the markets of many other big cities such as …, …, … and … are by … and more formed by canned beer.
Besides we have to notice the difference of prices and mix between supermarkets and corner shops.
There is much more premium and superpremium beer in supermarkets while mainstream is under harsh competitive pressure, so its prices often fall to economy brands due to promotions. At the same time, at the traditional corner stores the mid-priced brands on the contrary were growing fast due to unusual consumer behavior in 2020.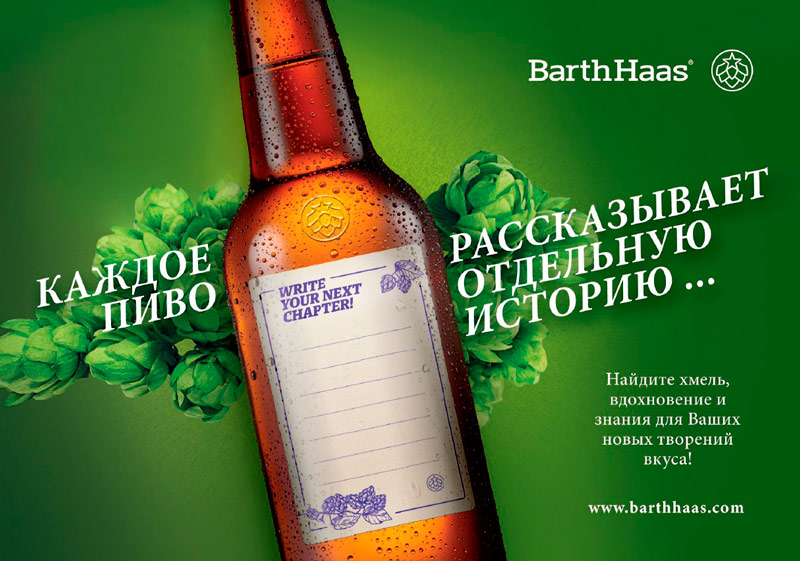 Segmentation by alcohol content
In beer sales distribution by alcohol content one could speak of steady trend to polarization if not for the exception of 2020. Among quarantine harsh restrictions the share of "usual" beer containing …-…% of alcohol increased for some time. However as soon as in March 2021 the share of strong beer as well as low or non-alcohol beer has grown compared previous years.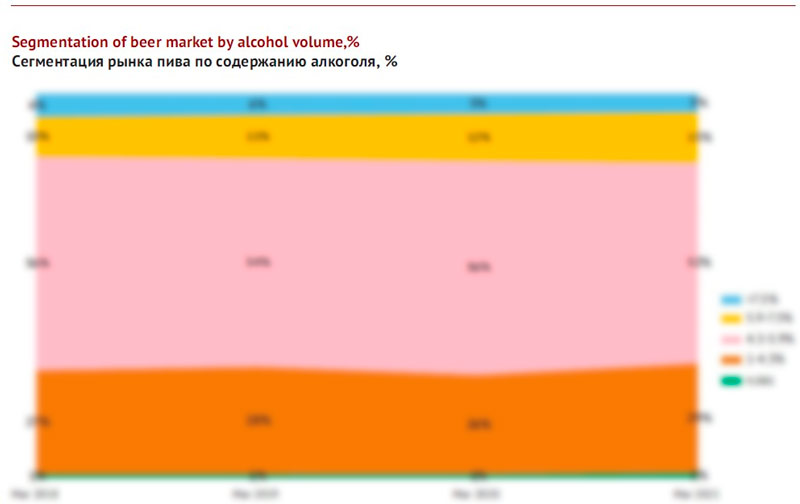 There is an obvious dependence in fluctuations of market shares of strong and soft beer. Thus, in summer beer containing little of alcohol increases by …times. And in winter the share of strong beer increases by …times.
Strong beer is most popular in … and … regions of the country especially in cities …and …. Besides strong beer is more demanded in … while in … there are consumers of non-alcohol beer.
Among beer brands the biggest impact in development of strong beer segment has been made by new product … by Efes Kazakhstan. The popularity growth must have influenced sales of competitors in the segment. Even if we do not take … into consideration strong sorts of brands … and … by Carlsberg Kazakhstan have also made a contribution into the strong beer segment.
In the segment of beer with low alcohol content there have been new launches providing for its rapid growth. These are beer … by Efes Kazakhstan and … by Perviy pivzavod.
Beer against other categories
Comparing data on beer to adjoined categories in 2020, one can notice that the growth of its output was better than expansive alcoholic drinks, yet, much less than that of simple and cheap ones.
In 2020 the rates of beer output (+…%) were five times slower than unusually fast growth of vodka output (+…%). Yet the beer dynamics is better than that of cognac (…%) or wine (…%) and much better than that of liqueur and other alcoholic drinks that shortcut their production by nearly a third.
The registered growth of affordable alcoholic drinks could have taken place for reasons other than immediate consumption. Thus, among the reasons for the positive dynamics of the official production and sales of alcohol there can be market unshadowing due to more checks, electronic system of registration as well as consumers' negative attitude to unofficial alcohol. Besides, there can be a growth of undeclared export to Russia due to comparatively low excises in Kazakhstan. At the moment of the article preparation there is a consideration of criminal liability for delivering big amounts of alcohol through the boarders of the customs union states.
At the same time, as for beer we can speak of actual consumption growth as the highest growth has been registered at international companies that are focused on the inner market. The volume growth of some regional companies is in tune with the years-long trend or connected to recovery after problems with operation.
At that, it is important that the beer output rates did not differ from the vast category non-alcoholic drinks (+…%) which is more sensitive than beer to weather fluctuations and can serve as their indicator. So, the beer output increase in 2020 is not connected to hot weather.
Unexpectedly, the beer output increase took place against a sharp decline in mineral and carbonated water production (-…%). As the growth in those categories is usually connected to healthy diet it is hard to explain the negative dynamics during the quarantine restrictions when people cared about their lifestyle.
Brewing companies
The beer market of Kazakhstan is still rather consolidated. In retail the regional share of two leading producers Carlsberg Kazakhstan and Efes Kazakhstan make up nearly …%. Between the market leaders there was redistribution of sales for a long time which looked as evening in favor of Carlsberg Kazakhstan.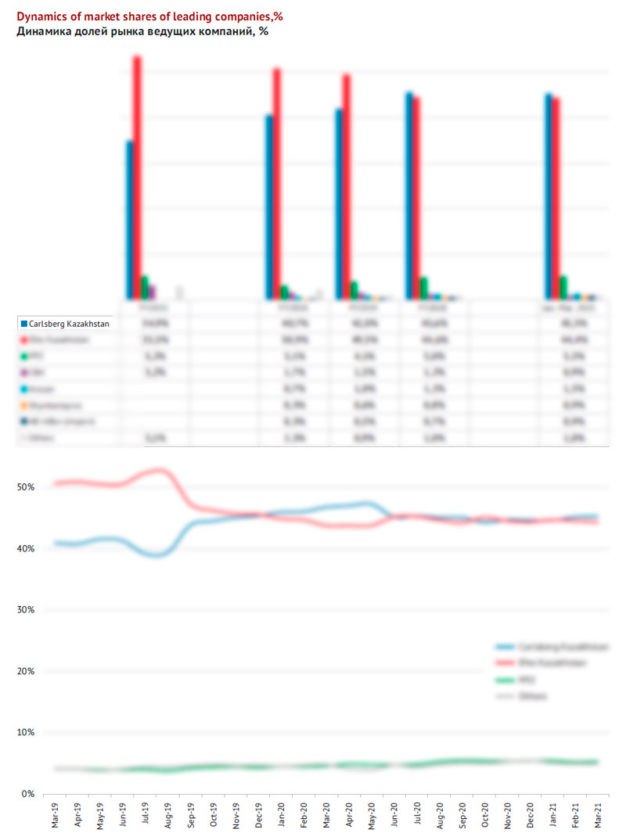 If we speak of the beer production nearly …% of output is accounted by two companies as they controlled only a half of the big market of draft beer.
By the end of 2020, one can make two conclusions:
On the one hand, the share of Carlsberg Kazakhstan stopped growing fast. Today in Kazakhstan there is a balance of retail market shares between Carlsberg and Efes which even visually looks like a steady equilibrium for a long time (starting from … till … 2021).
On the other hand, Carlsberg and Efes are not absolute leaders any more. Companies with comparatively small share of retail market as well as importers start playing ever more prominent part and gradually elbowing the market leaders. For the most part this is connected to wider distribution of Perviy Pivzavod as well as the growth of import brands by AB InBev the shipments of which are possibly coordinated with Efes Kazakhstan. Besides, the retail presence of regional companies Arasan and Shymkentpivo.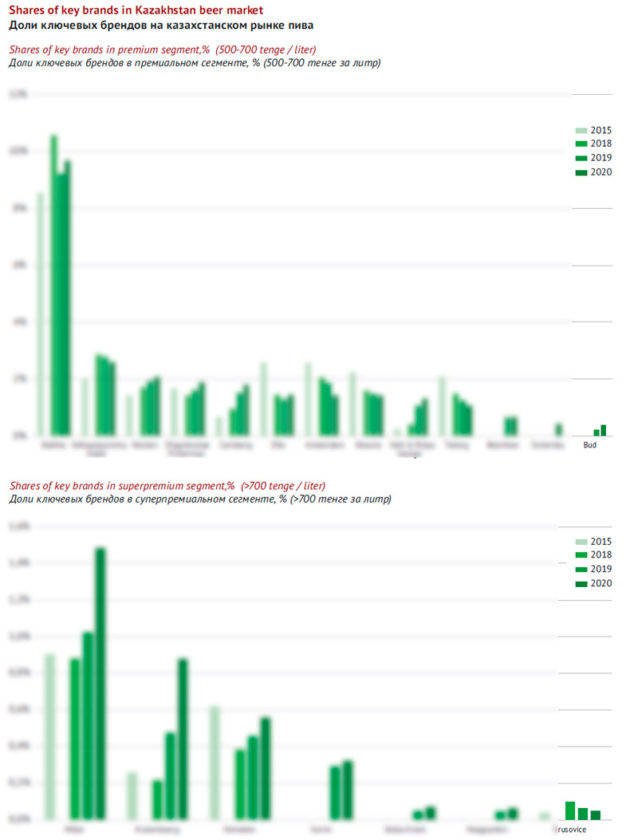 Carlsberg Kazakhstan
Various data and estimations tell us that by the end of 2020, Carlsberg Kazakhstan demonstrated a growth that left the average dynamics far behind. Under distributors' estimations the increase of the company's sales in retail network equaled …%. Thus, the company has left its competitor behind having become the market leader.
It is quite possible that Carlsberg Kazakhstan leadership is transient of situational as the start of 2021 has been much less successful. In … the retail sales remained at comparatively the same level as last year which is a negative result against the general growth. The … dynamics is connected to the high base effect as the leap in the market share of Carlsberg Kazakhstan took place in the first half of 2020.
Also the regional output data for 2020 reflect an …% growth of beer Almaty where Carlsberg Kazakhstan is obviously dominating among small producers. However, like retail sales the regional beer output volume was … at the beginning of 2021.
The company's tax payments in 2020 increased by …% having reached …bn tenge (the dynamics is obviously better than that of the main competitor).
If we consider the company's market share dynamics over the most dramatic period starting from … to …, its market share will show fluctuations in wide range. There was a big leap at the beginning, after that, … months of rather rapid growth followed by a small correction, stabilization and a lengthy even period. Obviously, those fluctuations reflected the market share of Efes Kazakhstan. Today we are experiencing some negative effects due to last year correction which actually registers the previous achievements.
Rapid growth of Carlsberg Kazakhstan till …, had been based on two activity types. The company strongly reinforced its presence in draft beer segment in …-… and also increased the volume of import beer. But starting from …, the company's positions improvement was connected to a range of important factors such as trade-marketing, promotion and branding activity.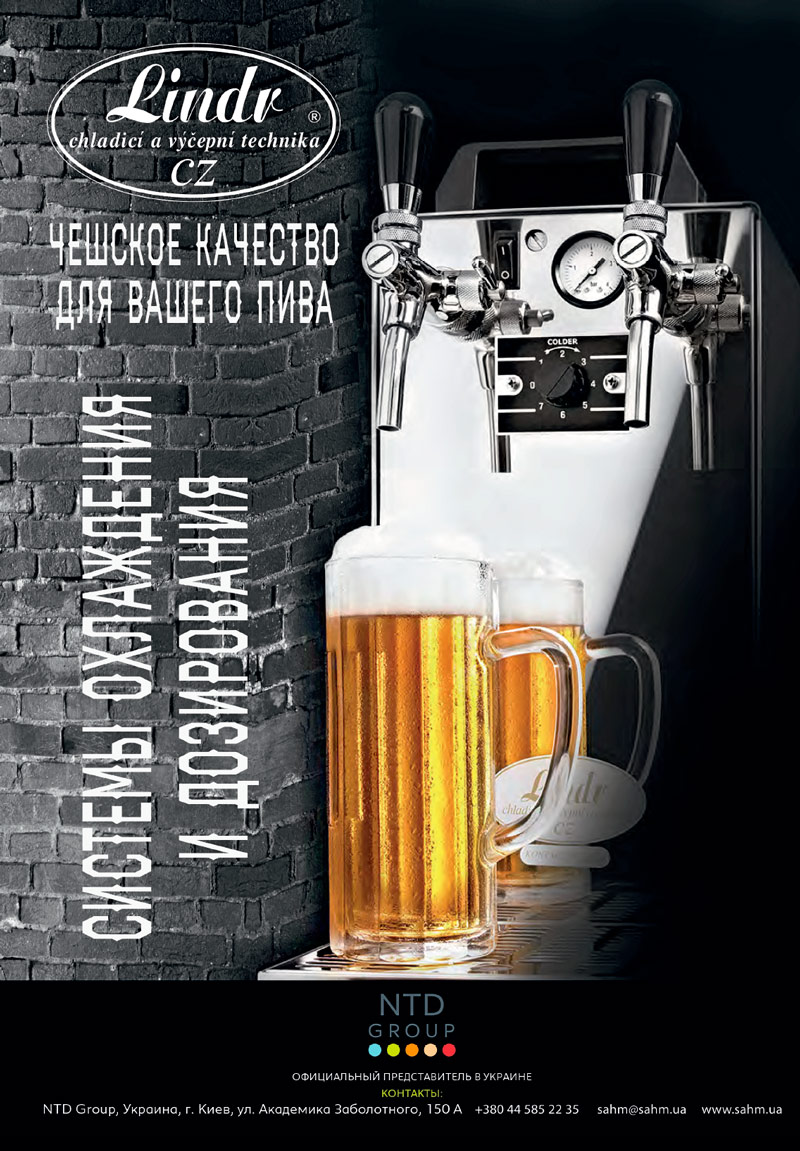 A host of various brands have made a contribution into the company growth.
Thus, for ten years, …was expanding its market share. Starting from 2015, the brand was adding several percent every year. In 2020 it grew mostly due to promotions in modern trade in the hot season. In summer every … bottle of beer sold at a supermarket was …. Naturally, the finish of promotion meant lower sales, yet the prices stayed reasonable, which supported the brand popularity. From the geographical point of view the brand positions have gone much up due to the market share growth in the densely populated … of the country.
Besides a positive role has been played the company's focus on premium brands which not only improved the price mix but eventually increased the volumes. In 2020 … beer managed to overcome reduction and started growing with brands … … and … having …% of the market each. …, … and … were expanding dynamically. Tuborg turned out to be the only outsider among license brands, yet its influence on the sales was not considerable.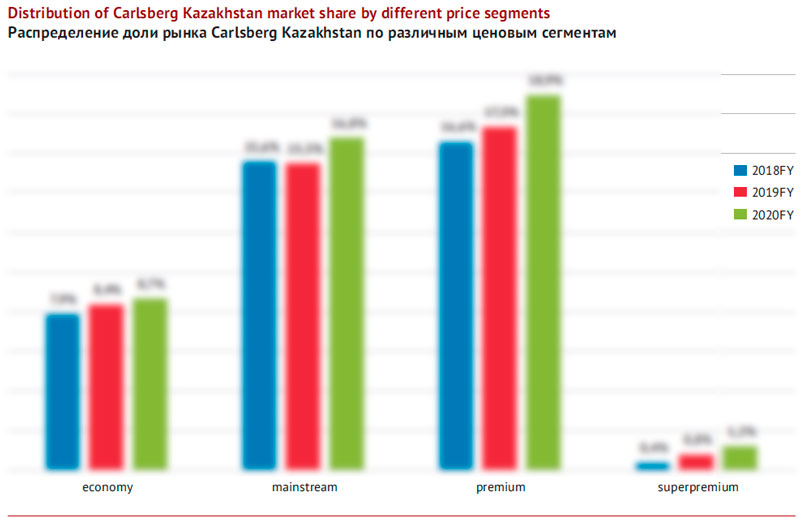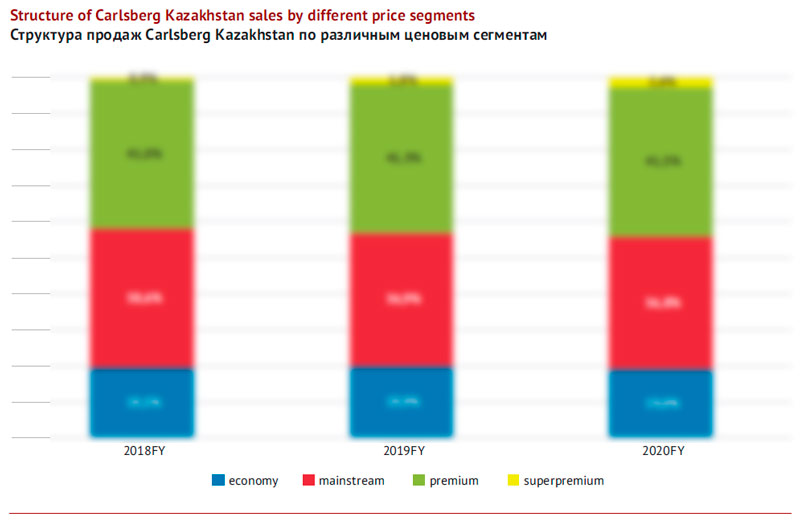 If we in general look at the dynamics of the company shares in different price segments, we can speak of slow position reinforcement in the economy segment over the recent years. In 2020 due to … the company performed well in the mid-price segment (having lost some margin because of promotional offers). But even more considerably the market share in the premium segment grew speeding up. The segment growth was very dynamic, though not very prominent in absolute numbers.
Thus, while in 2019 the retail sales structure polarized by the price segments, in 2020 one can rather speak of premiumization as the share was shrinking not only in the mid-price but also in the cheap beer segment.
Increasing shelf space for canned beer proved to be one more successful triggering bet. The company made the biggest contribution into development of that package segment.
In October 2019, Carlsberg Kazakhstan released info on launching a new can filling line. The modernization plan at Carlsberg Kazakhstan brewery in Almaty also had installation of four CCT for beer fermentation. After the modernization the production capacity will be increased by …%.
The investment sum into this project amounts to nearly … bn tenge (nearly $… mln according to the currency rate in 2019). This sum looks huge considering how modest have been investments into expanding and renovation of production facilities at all postsoviet breweries over the recent 13 years (except the project connected to energy saving, waste treatment facilities, recycling and so on).
Kulzhamilia Kurmagalieva, marketing director at Carlsberg Kazakhstan commented on the situation:
"Here at Carlsberg Kazakhstan we pay close attention to trends in changing consumer behavior, analyze them and launch ever more brands in cans for our consumers' convenience. Thanks to the project carried out in 2019 Carlsberg Kazakhstan expanded its capacity, got additional competitive advantage in the growing segment of beer market and started outputting even more of Kazakh product having cut import of certain brands".
Efes Kazakhstan
Until recently, the dynamics of production and sales of Efes Kazakhstan company left much to be desired. By the end of 2020, according to distributors' assessments, the company sales at the retail market decreased by …% which is an obviously negative result against the growth at most of big and small brewers.
In our previous review where we discuss Efes Kazakhstan performance in summer 2019, its dynamics inspired optimism. Yet, during September alone, …% of the market was taken from the company by its major competitor. Afterwards, till May 2020 several percent more were lost to this competitor but at lower speed. In summer the situation was corrected and then stabilized. Thus, in retail sales there appeared the low-base effect which permitted Efes Kazakhstan to demonstrate a positive dynamics early in 2021.
The negative trends are also confirmed by the regional dynamics of beer output. By the end of 2020, the net reduction at two regional breweries of Efes Kazakhstan amounted to …% (in Karaganda region, where the company dominates, the decline reached …%). The beginning of 2021 brought about a two-digit growth, …% in the both regions of presence and …% in Karaganda region.
Tax payment of the company's two subsidiaries in 2020 did not change much having amounted … bn tenge, which looks worse than competitors.
The competitive situation and fluctuations of the leaders' shares look like another round of the cycle that took place 5 years ago.
Thus, in 2014, the position of Efes Kazakhstan at the market could be considered monopoly but then Carlsberg Kazakhstan was attacking the mid-price segment via flanks for three years and made its distribution wider. Those actions resulted in the market leader's share decline by … p.p. until 2016. But eventually Carlsberg Kazakhstan's activity shifted to draft beer shops and in 2018 Efes Kazakhstan expanded their share due to regional producers. There was a new balanced established meaning that the company still dominated but its position did not look monopoly. In … there started new attack on mass brands by Efes Kazakhstan. Then their market share was taken not only by their major competitor but also to Perviy Pivzavod, importers and regional producers (however one cannot be sure about import). And the same way as 4 years ago, after another decline of mass brands there was a period of stabilization.
The reasons for worse market positions of Efes Kazakhstan are in general obvious. Too big were:
1) the company share in the mainstream segment,
2) the market share size of the key mid-price brands and
3) the significance of the mainstream segment for the company taking into consideration the fact that consumers' tastes are growing more complex.
Only brand … escaped the three-year trend of the mainstream reduction in 2018-2020. Its retail price was the same against the rapid growth of prices for beer, and in 2019 it came close to economy brands. This allowed for sales increase, yet as a result, the share of another big mid-price brand, … beer went down. Naturally subsequent rising of retail price for Beliy … seeking to restore the structure of the price segments led to the share decline.
Besides, in our opinion the images of …and …are difficult to support when tv commercials are banned. They are experiencing strong pressure from economy brands with similar positioning (for example …, …and …). Finally, the share decline of … to a full extent correspond to the common trend where old brands with national positioning are losing their popularity.
The biggest news in 2019 was Efes Kazakhstan entering the economy segment with its new products, namely … beer … and packed version of … beer …. These brands' development made a considerable contribution into slowing down the company's market share decline as …share amounted to …% and beer … accounts for …% by the end of 2020.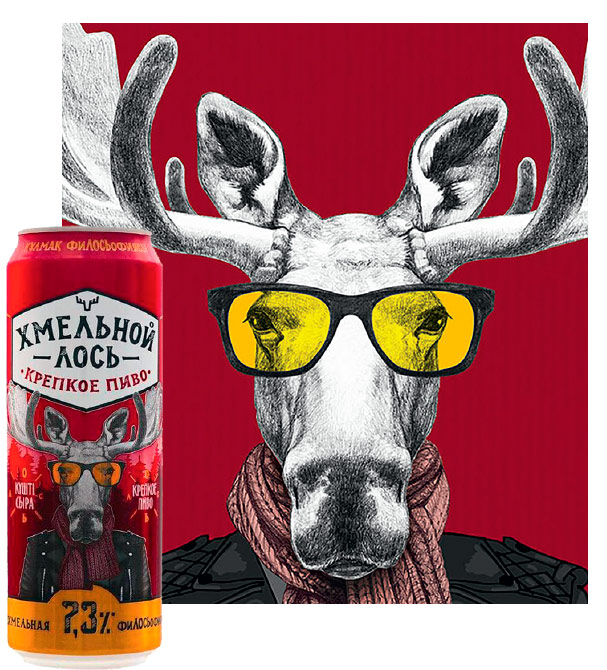 As agency viewpoint got an order to design …image, it must have made a point of solving the communication task by package (in the conditions of advertisement restrictions). Here is how they commented on their job in the agency:
"Only recently, the brand portfolio of Efes Kazakhstan has been replenished with a new impassioned and charismatic brand of strong beer Khmelnoy Los (Drunken Moose), whose design was created by the Viewpoint team.
Our job was to come up with a fresh, bold and memorable brand image, oriented primarily towards younger audiences of strong beer lovers who will appreciate a high-quality product at an affordable price.
The focal point of the design was the image of a moose, a wee bit drunk, but fashionable nonetheless, wearing hipster glasses and an elegant scarf around one's neck. A contrasting concise logo block with craft fonts is so eye-catching that it makes the product stand out on the shelf and increases the brand awareness. On a related note, the back of the can highlights some basic rules on how to reveal your inner philosopher… at which point… you will be able to make conversation on any topic: from repairing the grandfather's old car to the foreign economic policy of Equatorial Guinea!"
This is what Efes Kazakhstan writes about the second launch:
"Honoring traditions of German brewing Efes Kazakhstan happily presents new beer brand, Bremen, now in can…. Bright sparkling taste with a slight bitterness and hop aftertaste will satisfy lovers of German beer. The main goal of launching Bremen in can is creating a reliable base in Efes Kazakhstan product portfolio in the lower price segment as well as to expand presence of the company's products at places of beer sales".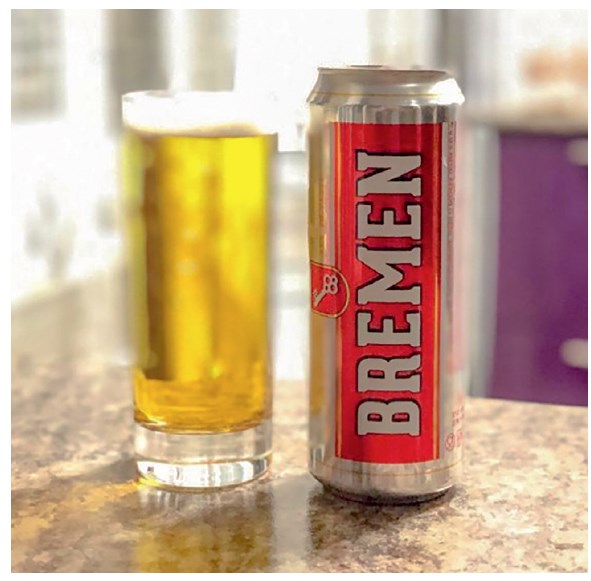 In the premium segment there has been a decline of … sales as well as some reduction of marked share of … and …, which failed to compensate for the growth of Efes title brand. Instead some general reduction of the premium brands was fully balanced by the fast growth in sales of superpremium beer ….
In this context the sales growth of international brands by AB InBev during 2020 and early in 2021 can be important. Firstly, it's flagman brand … which is enjoying great attention from the company at all markets of its presence. The brand's share has doubled over the year to …%. Here we should note positive dynamics of many superpremium brands such as …, …, …, … and others. Their net market share in 2020 amounted to as little as …%. But if Efes Kazakhstan takes up the distribution of those brands and starts expanding it actively then basing on the previous experience one can expect European sorts to win at least several percents of the national market.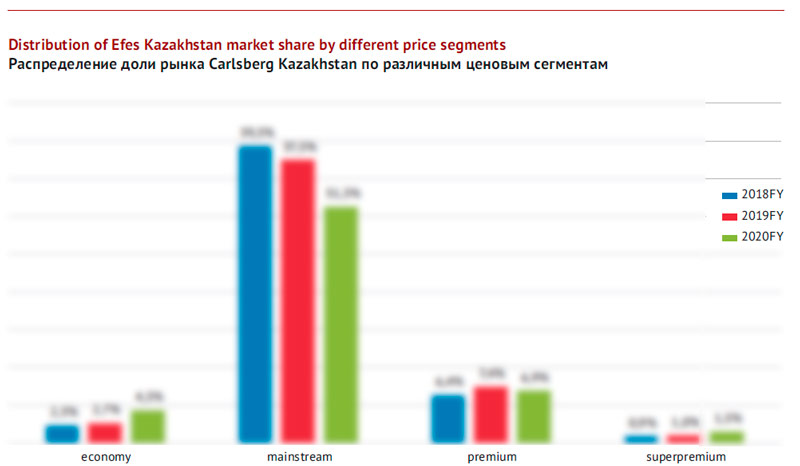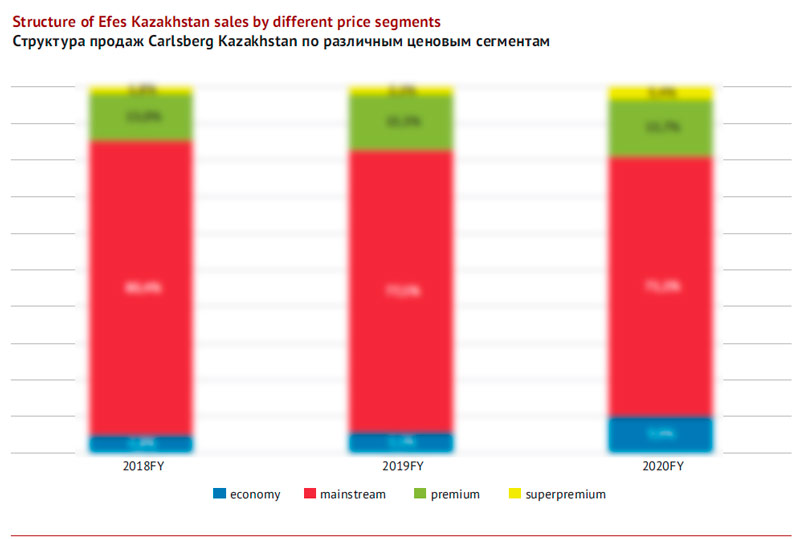 In conclusion we can say that the decline of mid-price brands itself resulted into polarization of sales at Efes Kazakhstan. However, the mainstream in the general volume of retail sales even having reduced from …% to …% still seems hypertrophic. Besides, the polarization was boosted by the activity in the economy segment, where previously the share of Efes Kazakhstan had been disproportionally small.
Perviy pivzavod, Oasis CIS
Though Perviy pivzavod occupies a modest position as to sales volumes, over the recent years it has been drawing ever more attention due to marketing activity and rapid growth rates. In 2020 like a year before, the company share in the retail grew by … p.p. and amounted to …%.
Tax payments of Perviy pivzavod in 2020 increased by record breaking …% reaching … bn tenge.
The share of Perviy pivzavod in the retail market was rapidly expanding from September till October 2020. Then it stabilized higher than …%. This growth has formed the low-base effect which of its own will be the growth basis of the share market in 2021.
As for outlet channels the company has reinforced its positions due to small grocery stores that play a rather important role in beer sales in Kazakhstan. The company distribution has already attained a high level at supermarkets and now it is approaching sales leaders' positions. At for regions the company has improved its distribution in …, … and … regions of Kazakhstan.
Company's sales growth has been distributed by different price levels. Thus, rotation of economy brands has supported positive dynamics for several years.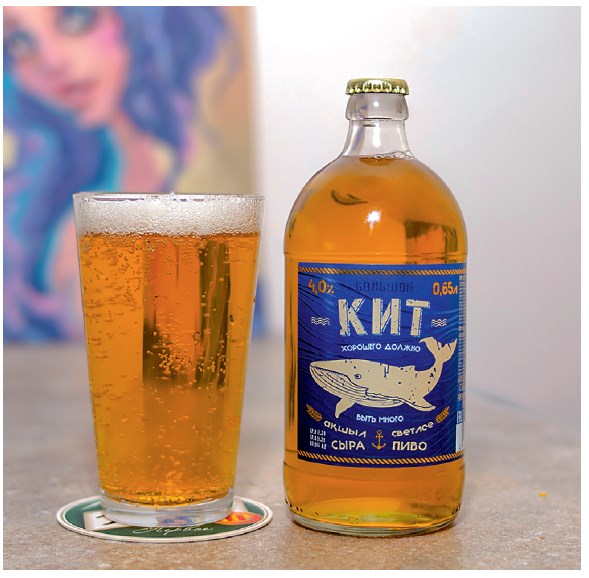 Thus, nearly five years ago, two "geographic" brands, namely … and … beer … started compensating share reduction of economy brands … and …. In 2020 … went on growing, but in aggregate the economy brands could no longer provide for further fast growth. However, Perviy pivzavod launched another new brand, mild beer Bolshoy Kit in glass bottle of 0.65 l. This beer has become a new growth driver for the company. Having appeared on supermarket shelves in … 2020 it has won …% of the retail market by … 2021.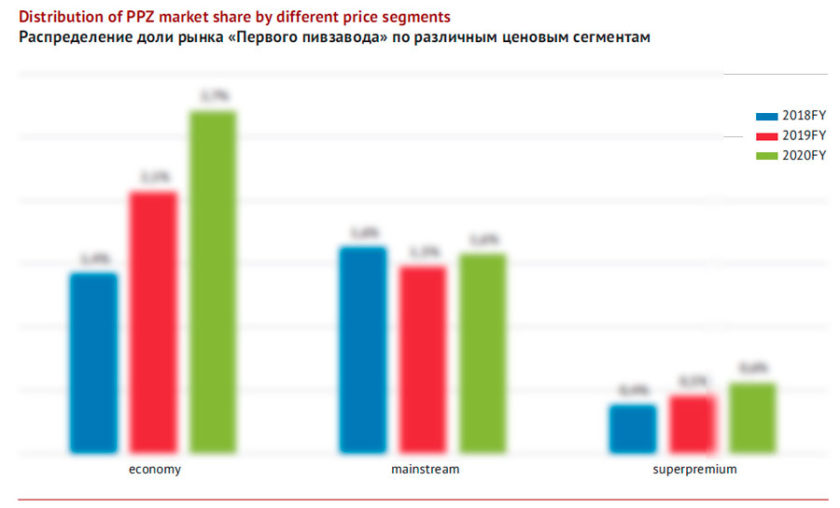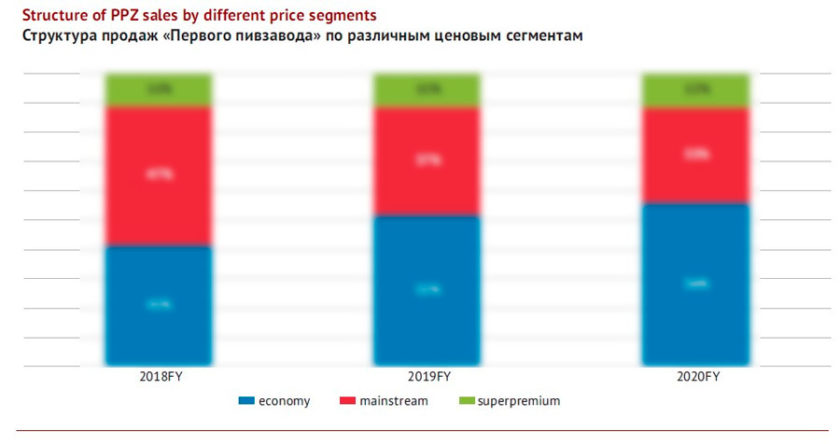 In the mid-price segment the company managed to expand its market share due to steady growth of … brand that expands its distribution. Besides, there has been some market share growth of strong beer ….
Finally, beer … has driven growing in superpremium segment which is an absolute leader there due to its global popularity.
The marketing strategy of Perviy pivzavod differs the sales structure from the brand portfolios of two market leaders or regional players. It has polarized over the recent years. On the one hand, economy brands account half of sales. On the other hand, the share of superpremium segment is also unprecedentedly high.
To get the full article in pdf (36 pages, 23 diagrams) propose you to buy it ($40) or visit the subscription page.
2Checkout.com Inc. (Ohio, USA) is a payment facilitator for goods and services provided by Pivnoe Delo.
The article materials were prepared using data by Committee on statistics Ministry of national economy. A number of estimations are based on presentations and reports provided by beer producers. The publications in issues Kursiv and Forbes Kazakhstan were used in the article preparation.
In case the information source is not provided, the data and their interpretation are our assessment based on the current trends.
We do not guarantee that the given information is absolutely correct, though it is based on data obtained from reliable sources. The article content should not be fully relied on to the prejudice of your own analysis.