Heineken NV and Carlsberg A/S, the world's third- and fourth-largest brewers, forecast higher profit this year as markets such as Vietnam and southeast Asia offset weakness in Russia and China.
Sales and profit will both increase in 2016 even with an "increasingly challenging external environment,' Amsterdam-based Heineken said in a statement Wednesday. Carlsberg forecast operating profit will rise by a low single-digit percentage on an organic basis as the Copenhagen-based maker of Tuborg beer reported fourth-quarter earnings that beat analysts' estimates.
Beer sales in oil-producing countries such as Russia and Nigeria have been weighed down by a decline of about 40 percent in the crude price since February last year. Heineken said the Chinese market slowed down last year, especially in the second half, though it offset that growth in other Asian markets. Heineken and Carlsberg are preparing to face an even-bigger competitor from Anheuser-Busch InBev NV's planned purchase of SABMiller Plc.
"Vietnam is a market that Heineken points out as growing, I would expect the same thing for Carlsberg," Javier Gonzalez Lastra, an analyst at Berenberg, said by phone. "China is changing, I'm not sure it will be such an exciting market in 2016, but Vietnam and southeast Asia are definitely up and running."
Heineken shares rose as much as 1 percent in Amsterdam. Carlsberg gained as much as 2.3 percent in Copenhagen. Vietnam is Heineken's third-largest market, after Mexico and Nigeria.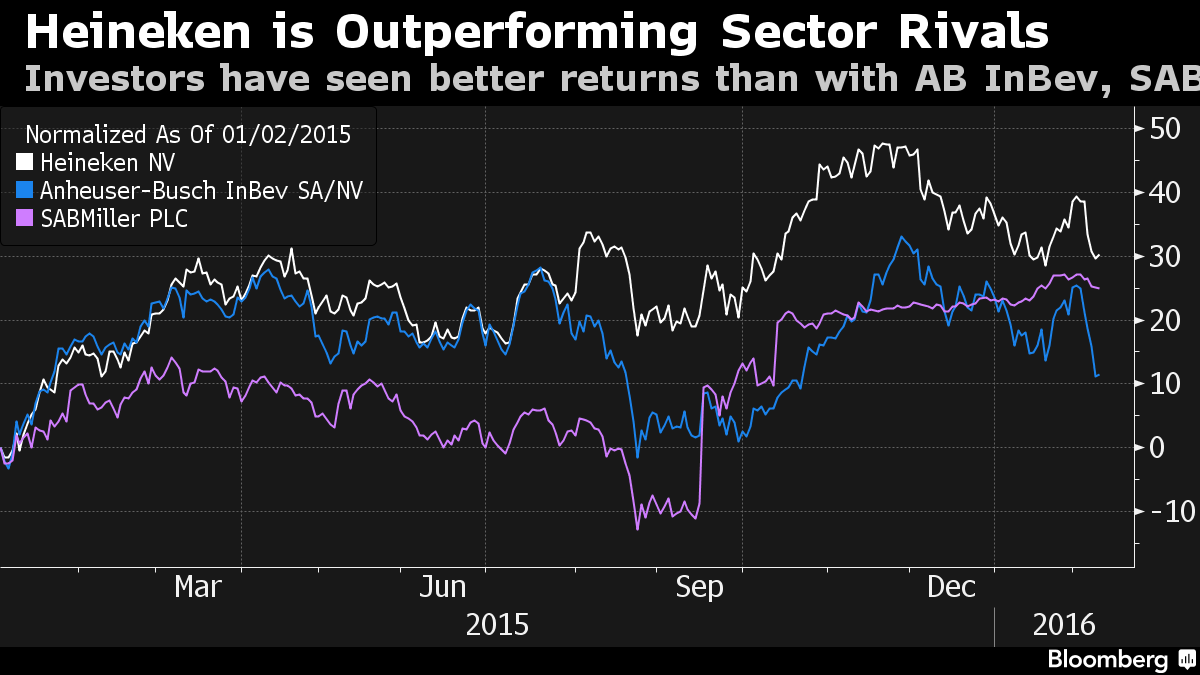 Profit before some items rose 16 percent to 2.05 billion euros ($2.32 billion) in 2015, Heineken said, matching the average estimate compiled by Bloomberg.
"Russia is not looking good," due to the collapse in oil prices, Jean-Francois van Boxmeer, Heineken's chief executive officer, said in an interview. "There is slight pressure in Africa and the Middle East." The company said margins should expand "in line with our guidance." The company has a medium-term target of a 40-basis point increase in operating margin.
Market leader Anheuser-Busch InBev agreed to buy nearest rival SABMiller last year in a deal now valued at about 72 billion pounds ($104.1 billion). The companies expect the deal to close in the second half of 2016. Smaller brewers have also gained market share from the larger producers in Europe and the U.S.
Carlsberg is cutting jobs and closing breweries after years of declining profit tied to Russia's shrinking beer market. Turmoil in Ukraine and the ruble's decline have dented consumer confidence in the country, where Carlsberg is the largest beermaker through its ownership of Baltika Breweries. The company said it will unveil its new strategy for growth to investors on March 16.
Fourth-quarter earnings before interest, taxes and one-time items fell 21 percent to 1.41 billion kroner ($210 million). The average of analyst estimates compiled by Bloomberg was for 1.22 billion kroner.
"Our businesses in western and eastern Europe had a challenging year," Cees 't Hart, chief executive officer since June, said in the statement. "As a consequence of the strong Asian results, however, 2015 marked the inflection point when the growth markets of Asia accounted for a larger part of the group than eastern Europe."
The brewer has had a good start to the year in Russia and Carlsberg is interested in the craft beer segment, the CEO said on a call with reporters.