Local microbreweries are on the rise, creating premium drinks out of indigenous flavors for a thirsty nation with a taste for the unusual.
Swedish-born Thomas Gaestadius, brewmaster and co-founder of Beijing-based microbrewery Arrow Factory Brewing, works surrounded by stainless steel tanks filled with his latest concoctions, which release a thick and pleasant malty scent.
The small brewing facility next to Liangmahe in eastern Beijing opened to the public in January, serving food and craft beer.
It was only two years ago that Gaestadius and British business partner Will Yorke started brewing on a small scale to supply their sausage restaurant Stuff'd, near the Lama Temple in the Chinese capital.
They now brew 1,000 to 2,000 liters per week, also supplying craft beer to other restaurants in town.
The business partners, who used their own savings to start the brewery, say craft brewing is a demanding business not right for everyone.
"It is an expensive business to set up and it is very labor-intensive," said Gaestadius.
"The necessary equipment can cost 500,000 yuan ($78,000) to 1 million yuan. You also need a lot of space, and getting a commercial venue in downtown Beijing is not cheap, either."
Their microbrewery is now growing organically, with most of its profits reinvested in expanding capacity to capitalize on China's new thirst for craft beers.
"It is crazy now. Both Chinese and foreigners here are increasingly interested in craft beer," Gaestadius said.
Only five years ago, China's craft beer scene was virtually nonexistent, with only 20 microbreweries operating in the country. That number increased to some 200 in 2015, putting specialty beers on the map, according to industry sources.
China's overall beer market is worth an estimated 543.3 billion yuan-the world's largest by volume at 47.5 billion liters, according to Simon Moriarty, head of emerging markets research at Mintel Research.
Craft beer, however, remains a niche product, accounting for less than 1 percent of the Chinese beer market, meaning that it is still a barely tapped business opportunity.
In 2007, Xinjiang-born Jackie Zhou opened a bar, Jackie's Beer Nest, in Shanghai to sell imported bottled craft beer after falling in love with the complex and flavorful brews.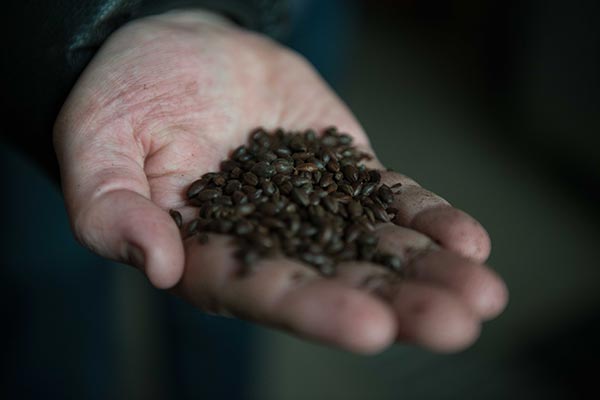 Three years ago, he decided to turn the bar into a serious brewpub with the acquisition of specialized brewing equipment, including containers, boilers and fermentation tanks.
He calculates he invested around $80,000 to make his dream possible. Though still a small business, Zhou estimates that sales of his craft beer have been increasing by at least 30 percent a year.
Zhou, whose best-selling products include his Chinese tea pale ale and a yellow lotus seed and mushroom ale, thinks that the local industry still needs to develop its own identity. "China doesn't have its own reputation for craft beer production in the beer world. We need to try our best to change this," he said.
Despite slight decrease in sales volume in 2015 and 2014, Euromonitor International forecasts that China will see beer sales increase to 49 billion liters in 2016.
Beijing-based market research group Daxue Consulting says the increase will be boosted by sales of premium brand beers, reflecting increasing opportunities to capitalize on the growth of the premium segment.
Even though demand for craft beer is increasing, the segment remains in its infancy, with producers saying that sourcing materials, particularly malts, hops and yeasts, are one of their biggest challenges. But some help appears to be on the way.
In November, the United Kingdom signed a $151 million deal to export 150,000 tons a year of barley to China over the next five years, mostly to tap into the country's appetite for premium beer.
"This indicates that the market is becoming more mature and there is a wider offer of choices for us and for customers," said Will Yorke, co-founder of Arrow Factory Brewing.
Chandler Jurinka, owner of Beijing-based Slow Boat Brewery, says trade deals for beer ingredients are crucial for the nascent industry.
"When we first started doing business, we could barely get anyone interested in selling barley to us," Jurinka said.
Slow Boat opened in 2011 using an investment of $1.3 million raised in part with the help of angel funding from family and friends.
Nowadays, the microbrewery, which has its own taproom in Beijing, ships its beers across China.
Slow Boat now sells 250,000 liters of artisanal beer, having registered a 300 percent year-on-year growth in revenues in 2015.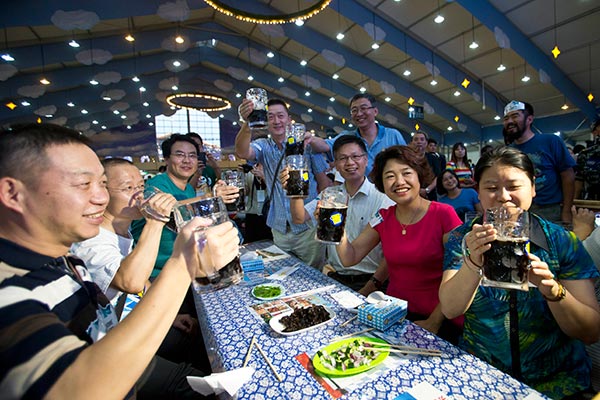 Brewery officials complain that there is still a very limited selection of locally produced grains and hops available for nonindustrial brewers.
"The hops we are using are almost 100 percent from the United States. Meanwhile, grains come from Europe and New Zealand," Jurinka added.
Still, China's agriculture is undergoing some important changes that could benefit local craft brewers.
"We have been contacted by some nongovernmental organizations that are helping farmers repurpose land for high-quality grains. So, there is something happening in that respect," Jurinka said.
The brewery is using domestic ingredients such as herbal tea, spices from Guangzhou and honey from Yunnan province to give a local taste to their brews.
"The craft revolution that everyone seems to be talking about is not only about the boom of high-alcohol and highly flavored beers," Jurinka said. "The revolution is all about localizing a global product."
Great Leap, one of the leading establishments in Beijing's craft scene, puts a special emphasis on sourcing local products whenever possible for its beers. The brewery signed an agreement with China National Cereals, Oils and Foodstuffs Corp, the country's largest food association.
"COFCO supplies 100 percent of our base malts. For hops, we are also using Qingdao flower, which is the closest thing you can get to an indigenous Chinese hop here," founder Carl Setzer said.
Setzer, from the United States, opened Great Leap Brewing in 2010 near Houhai and in 2013, in order to meet increasing demand, inaugurated his largest brewpub in the capital's trendy Sanlitun area with an investment of $1.1 million.
Great Leap Brewing now has the capacity to produce 550,000 million liters and expects 2016 to be its biggest year ever thanks to adding a second location.
Setzer sees the increasing popularity of microbrewing culture in China as a direct consequence of the ongoing economic and social changes in the country.
"Craft brewing is an example of where China wants its economy to go in the future. They don't want mass produced and low-margin goods. They now look for something that is high quality and representative of the new China," he said.