If imitation is a sure sign of popularity, David Cameron must wish he was Xi Jinping. When cameras filmed the Chinese leader enjoying a pint of Greene King IPA beer with the British prime minister during his state visit to the UK in October, consumers back home rushed out to do the same.
"We have seen a 16-fold increase in orders from China over the last few weeks, and currently have 50,000 cases of Greene King IPA on a boat to arrive in time for Chinese New Year," said a spokesman for the venerable Nineteenth Century Suffolk brewer, while one importer revealed having to up their November monthly order from the usual 6000 bottles to more than 80,000 to meet demand.
Chinese media reported the fervour extending far beyond the major cities of Beijing and Shanghai. "Before, we were selling about 100 litres each day. Now we can sell as much as 300 litres," said the landlord of a pub in Urumqi, capital of the rugged desert region of Xinjiang 2000 miles from the capital.
The Chinese drink around 55 billion litres a year, more than twice as much beer as any other country. And though just a tiny part of this huge market, the £15 million of British beer exported to China marked a 186% increase since 2013. "British beer is growing in profile," said Elizabeth Truss, British Secretary of State for Environment, Food and Rural Affairs, on a recent trade visit to Shanghai to promote British food and drink. "So there is a massive opportunity to take more market share."
When local news website Tianshan Net analysed the spike in Greene King sales, it described a "passion and curiosity" for drinkable symbols of British craft and tradition – values esteemed in China. For the country's expanding middle-class, traditional British brews are a distinctive foreign product that contrasts sharply with ubiquitous cheap Chinese lager. And it's a luxury that people are willing to pay up to 40 times more for than a mainstream local lager like Tsingtao.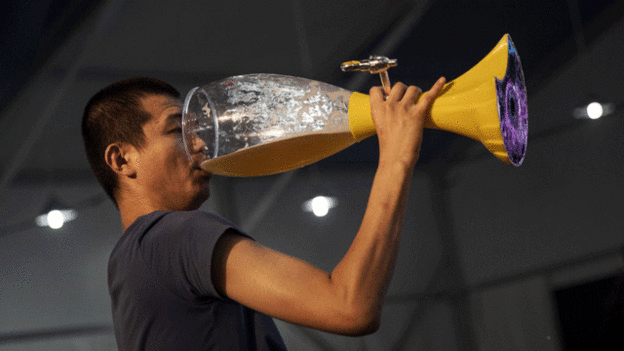 Chinese students returning from study abroad with broadened beer tastes have added to the fan-base. At Beijing's Great Leap Brewing pub, for example, younger Chinese drinkers are replacing expats as the main clientele. "Some come, they think, 'That's a bit weird', and leave after one drink – but then they come back the next day, the next week, and bring their friends, too," a pub spokesman told the Sapore di Cina website.
When a group of British Midlands craft brewers organised trips to China in 2013 to showcase their wares, positive feedback prompted the creation of British Craft Beers Ltd to promote brews from companies like Thornbridge, Castle Rock and Peak Ales. "There is a clear opportunity for sweeter beers, mild and dark stouts and porters," said founder Richard Worrall.
Interest in distinctive beers has prompted the opening of China's first brew pubs, such as Boxing Cat Brewery and Jackie's Beer Nest in Shanghai, and Great Leap Brewing and Slow Boat Brewery in Beijing. These bars sell a number of British ales – Belhaven Stout, Abbot Ale, Old Speckled Hen and Greene King IPA are all on the taps at Jackie's Beer Nest. They have also pioneered a wave of Chinese craft beers influenced by British traditional brews. Boxing Cat's Southpaw Winter Warmer openly describes itself as an English-inspired malty brown ale, for example.
Bedfordshire's Charles Wells Brewery is another producer creating greater ties with China. "China is a complex market and importation can be quite bureaucratic when compared to other European markets," says international sales director Tim Sprake. "However, we intend to add further resources over the next 3 years including a new trade mission in the spring of 2016 to cement the next phase."
Cornwall's St Austell brewery has also leapt on the boat to China. "We actually have a small order on the seas to Shanghai right now," says export manager Mike Morris. "This first order is more of a trial to see which beers will be received well. The big development overseas generally has been towards the more hoppy IPA styles of beer and we're well placed with our Proper Job brand. Or we may see our more easy drinking session beer Tribute work well."
He sees China as a market for slow steady expansion, rather than the sort of out-of-the-blue spikes prompted by Xi Jinping's pint of Greene King IPA. "We expect over time consumers will experiment more, and there will be a wider acceptance of British beers. So while at the moment we wouldn't expect big orders, it's important to be there – because undoubtedly it should develop into a significant export market," Morris explains.
British beers may also benefit as Chinese workers become more interested in tracking down quality drinks that will help them impress important clients. A report in The Lancet earlier this year found "drinking with clients and colleague is seen as vital to career advancement" in China today – and even cited job ads listing 'good drinking capacity' as an asset for candidates.
Such cultural shifts play into the hands of British beer exporters. Leading British beer expert Melissa Cole once described British beers as not only "category-defining and iconic" but also "the most sessionable beers in the world." So perhaps the great British drinking session will be among our most novel 21st century exports to China.